Ready to Succeed?
Don't "diet", instead, Transform Your Life! We offer meal plans with recipes that taste GREAT! Enjoy your food, live your life, and reach your goals!

Learn More
why infinite extent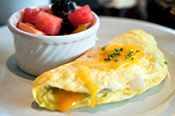 Breakfast - the most important meal of the day... but who has time??? YOU do! Breakfast doesn't have to be something to stress over. It's actually fairly simple, with just a bit of planning, you can have grab-and-go food at your fingertips!
Breakfast Recipes

Click recipe title to view.
Check out my blog http://blog.recipeforfitness.com/ where I post new recipes weekly!