Ready to Succeed?
Don't "diet", instead, Transform Your Life! We offer meal plans with recipes that taste GREAT! Enjoy your food, live your life, and reach your goals!

Learn More
Healthy, Clean Eating Recipes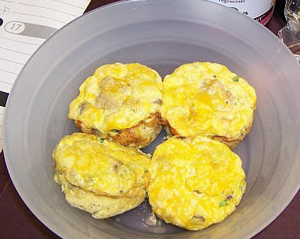 This recipe is super easy to put together, and can be made ahead for weekly breakfasts. I bake them up on Sunday. My best friend, and the world's greatest personal trainer, Tab, taught me how to make these... you can easily vary the ingredients to suit your tastes.

Egg Muffins

Makes 36 full sized muffins

Ingredients
● Egg Beaters - 32 oz carton (or use whole eggs)
● 1.25 lb ground turkey (one package), browned & seasoned (I use Mrs Dash, Garlic & Herb or Fiesta Lime) in 1 Tblsp of Coconut oil.
● 1 sweet potato, baked (I microwave for 3 min), skin removed and diced.
● 2 small peppers, diced.
● 1 green onion, chopped
● 1 cup chopped mushrooms (I use crimini)
● 1/4 cup baby spinach (chiffanade)
● 1 cup cooked quinoa
● 1/4 cup cheddar cheese, shredded (optional).
Directions
● Preheat oven to 350°
● Grease (I use coconut oil) muffin tins. (Or use muffin liners).
● Mix all ingredients in a bowl. And fill muffin tins 3/4 full. Sprinkle with cheddar if desired.
● Bake for 10-15 minutes, until knife comes out clean. Allow to cool. Muffins will "deflate" as they cool.
● Place muffins in baggies and toss in fridge. To reheat, microwave for 30 seconds (1 min. for 4 muffins).
● Serving Size: 2-4 (each muffin contains less than 1 egg and about 100 calories).

OPTIONS: Tab's original recipe used Eggs & Canadian Bacon. You can add or remove veggies, or meats or seasonings as you like. You can add more Egg Beaters if you prefer a more egg-y muffin.

Nutritional Data: as closely as I can figure it. This is per muffin.