Gluten-Free Biscuits & Gravy
Perfect for chilly mornings, this breakfast is comforting, filling and flavorful! Great holiday treat!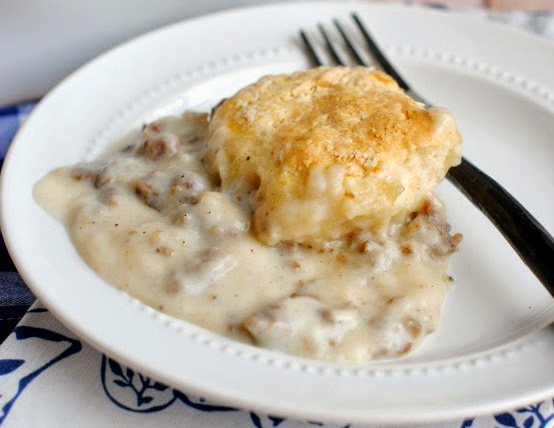 Preparation Time: 20 minutes Total time: 1 hour
Adapted by Chelle Stafford, December 14, 2014
Serves 6
Ingredients:
1 lb (clean) breakfast sausage (like this),
2 cups milk,
1/2 cup GF all-purpose flour (I used King Arthur),
1/2 tsp sea-salt,
1 tsp black pepper, divided,
4.5 cups GF Baking Mix (I used King Arthur),
1 1/3 cup milk,
**optional: 1 Tbsp bacon grease - see note below,
2 whole eggs,
1/2 cup shredded cheddar

Instructions:
In a large skillet over medium-high heat, cook sausage*, chopping into crumbles as it cooks. Drain grease, place meat in greased (I used olive oil cooking spray) 8x8 baking dish.
To the skillet, add milk, flour, salt and 1/2 tsp pepper. Heat over medium, and whisk constantly. Continue to whisk smooth until mixture begins to thicken. Pour over meat in dish.
In a large bowl, mix Baking Mix with 2 eggs, 1 1/3 cup milk, 1/2 cup shredded cheddar, and 1/2 tsp pepper, and mix well, adding more baking mix if needed.
Pull off chunks of dough and roughly form "biscuits", flattening them, then placing them over the sausage/gravy mix. Use bits of dough to fill in gaps.
Bake at 350 degrees for 30-35 minutes*.

*NOTE: GF biscuits won't brown the same way regular ones do, so touch the tops of them to test for doneness.
Serve.

**NOTE: I saved the bacon grease from the previous morning's breakfast (uncured bacon - I used Hormel's, scroll down page on link to view), and cooked the sausage in 1 Tbsp of the reserved grease. It added a ton of great flavor!
Recipe adapted from this, photo of original recipe.