Ready to Succeed?
Don't "diet", instead, Transform Your Life! We offer meal plans with recipes that taste GREAT! Enjoy your food, live your life, and reach your goals!

Learn More
Healthy Recipes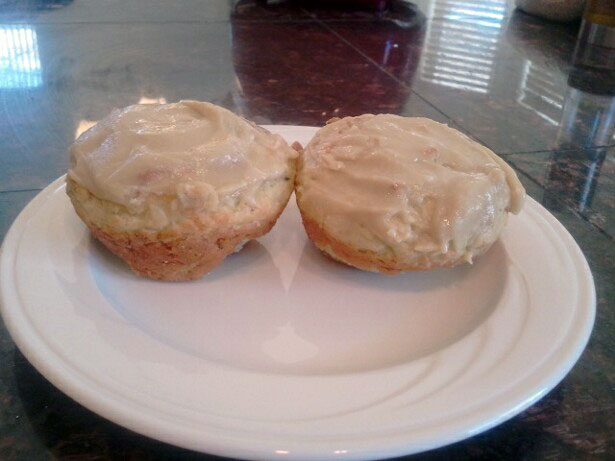 This recipe is a result of my desire for an on-the-go meal replacement. I need a lean protein, a starchy carb, and a veggie with a bit of fat. These hit it all, plus - hello, frosting! I had a lot of fun developing these, and while there's no added sugar/sweetener, I think they turned out pretty good :-) As a breakfast, 3 muffins would be about the same as my oatmeal with protein powder/ground flax.

Protein Blueberry Muffins

Makes 6 full sized frosted muffins
Ingredients
● 1/4 cup dry oatmeal/rolled outs - ground to flour (in a coffee grinder, or just use 1/4 cup oat flour)
● 1/4 cup coconut flour
● 2 scoops vanilla protein powder
● 2 Tbsp ground flax seed
● 1/4 tsp sea-salt
● 1 tsp baking powder
● 1 egg white
● 1 Tbsp unsweetened apple sauce
● 1/2 cup unsweetened vanilla almond milk
● 8 drops Capella Caramel Flavor (optional)
● 1 tsp vanilla (pure extract)
● 1 cup blueberries (I used fresh)
Directions
● Mix together the dry ingredients.
● In a separate bowl, mix the wet ingredients, then blend together with the dry.
● When nearly blended, add the cup of blueberries and mix together.

● Spray a muffin tin with clean oil (I use coconut).
● Divide the batter into 6 muffin cups.
● Bake at 350 for about 20-24 minutes.
NOTE: I start at 15 and check them every 3 minutes until they're just starting to go gold/brown on
top - don't over-bake these! You'll end up with a dry nasty rock.
● Remove from oven when a knife inserted comes out clean (even if they don't look done).
● Set on cooling rack.

Frosting:

● In a small bowl, mix 2 Tbsp vanilla unsweetened almond milk with 1/2 tsp vanilla.
● If you like, add 4 drops of your favorite Capella flavor drop (I like either Caramel with these muffins)
● Slowly add liquid to 1 scoop vanilla protein powder, stirring constantly.
● When all liquid is incorporated, you can add a few drops of coconut oil to "smooth" out the icing.
● Divide icing among the six cooled muffins.
● Store in airtight container in fridge.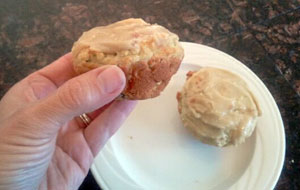 Nutrition Info per Muffin (frosted):
Nutrition info is per muffin. Recipe makes six full-size muffins, frosted.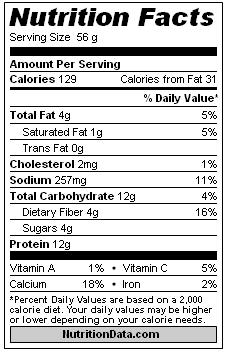 Nutrition Info per Muffin (UN-frosted):