Ready to Succeed?
Don't "diet", instead, Transform Your Life! We offer meal plans with recipes that taste GREAT! Enjoy your food, live your life, and reach your goals!

Learn More
Healthy, Clean Eating Recipes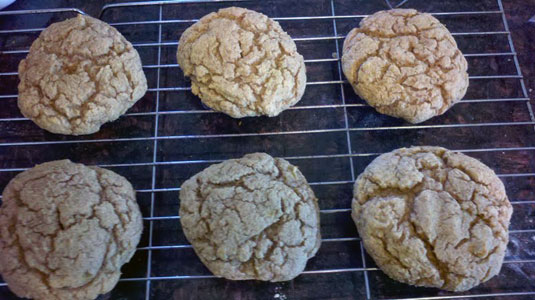 Are You a Victim of Sucky Diet Syndrome? Eat a COOKIE!
Diet got ya down? Low carbs, no sugar, no fun? Then it's time you had a cookie. Heck, have one for breakfast. Or two. Yeah, I'm serious! Life's too short for sucky diets! Now before you dive into a bag of Oreos™, let me explain...

One of the things I love most is creating in the kitchen... sometimes my experiments work and sometimes they flop, but this one (you'll be glad to know) is a keeper - Frosted or Unfrosted! These giant treats look like snicker-doodles when they come out of the oven, and taste like banana bread. High in protein and fiber, with a great balance of carbs & fat, they make a terrific breakfast on the run. If you'd like a quick & easy go-to breakfast cookie that won't bust your diet, give these a whirl... and let me know what you think!
GF tip... this can easily be gluten free - just check your ingredient labels to be sure your products are GF.
*Important note: Do not make substitutions on this recipe.

Dry Ingredients:
● 3 scoops vanilla protein powder (*my protein powder's scoop = 1/3 cup)
● ½ cup sifted coconut flour
● 1 Tablespoon ground cinnamon
● ½ teaspoon ground cardamom
● 1 Tablespoon baking soda
● ¼ teaspoon sea-salt
● 2 packets Stevia (I used Sweet-Leaf)

Wet Ingredients:
● 4 egg whites (or 1 cup liquid egg whites)
● 1 cup mashed banana
● ¼ to ½ cup unsweetened vanilla almond milk


Directions:
1. Preheat oven to 350. Line baking sheet with foil & spray with oil (I used coconut oil)
2. Whisk dry ingredients in a large bowl until well blended.
3. In a medium bowl, beat egg whites until fluffy. Slowly add mashed banana.
4. Stir the egg white/banana mixture into dry ingredients, then add almond milk until moistened all the way through.
5. Separate into 6 balls, and place on foil lined & sprayed baking sheet. Flatten slightly so they look like large cookies.
6. Bake 22-25 minutes or until tops are golden and knife inserted in center comes out clean.
7. Transfer to wire rack to cool.


FROSTING

Ingredients:
● 3 scoops vanilla protein powder (*my protein powder's scoop = 1/3 cup)
● 2 packets Stevia
● ½ teaspoon pure vanilla extract
● 1 Tablespoon butter (unsalted), softened
● ¼ cup unsweetened vanilla almond milk

Directions:
1. Stir together until mixture resembles frosting. Spread over the six Banana-doodles.
2. Store in airtight container in refrigerator for up to 4 days.

Tip and substitutions: Add walnuts or ground flax seed. To reduce calories, carbs & sugars, omit banana and replace with 4 Tablespoons (1/4 cup) unsweetened applesauce, and increase cinnamon to 2 Tablespoons.
Nutrition Information:
Calculated using NutritionData.com
Each: 249 calories; 26 g protein; 20 g carbohydrates; 7 g fat; 6 g fiber; 7 g sugars