Ready to Succeed?
Don't "diet", instead, Transform Your Life! We offer meal plans with recipes that taste GREAT! Enjoy your food, live your life, and reach your goals!

Learn More
Healthy Recipes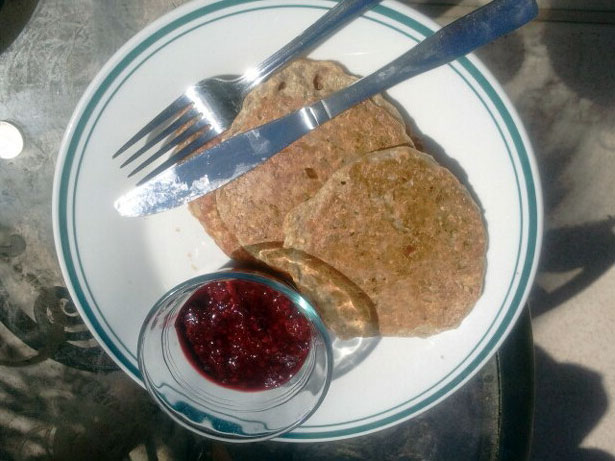 I've known that...you can take the oatmeal protein powder mix (from my regular breakfast) and mix it thinner (more water) for a pancake batter, but I'd never tried it until recently :-) I used vanilla unsweetened almond milk in place of the water and they turned out fantastic. I topped them with my fruit "syrup".

Oatmeal Protein Pancakes

Makes 4 pancakes
Ingredients:
● 1/2 cup dry oatmeal
● 2 Tbsp ground flax seed
● 1/2 tsp ground cinnamon
● 1 scoop vanilla protein powder (I use Beverly UMP)
● 1 to 1.5 cup vanilla unsweetened almond milk

Directions:
● Heat skillet on stove.
● Mix ingredients until it reaches a batter consistency
NOTE: add more almond milk or water if it thickens up too much
● Scoop onto hot skillet (spray with coconut oil first). I use 1/4 cup measuring cup, and get 4 pancakes out of the mix.
● Top with (depending on your dietary needs): Natural nut butter, real butter, real maple syrup, fruit "syrup" (see below).
Nutrition: