Ready to Succeed?
Don't "diet", instead, Transform Your Life! We offer meal plans with recipes that taste GREAT! Enjoy your food, live your life, and reach your goals!

Learn More
Healthy Recipes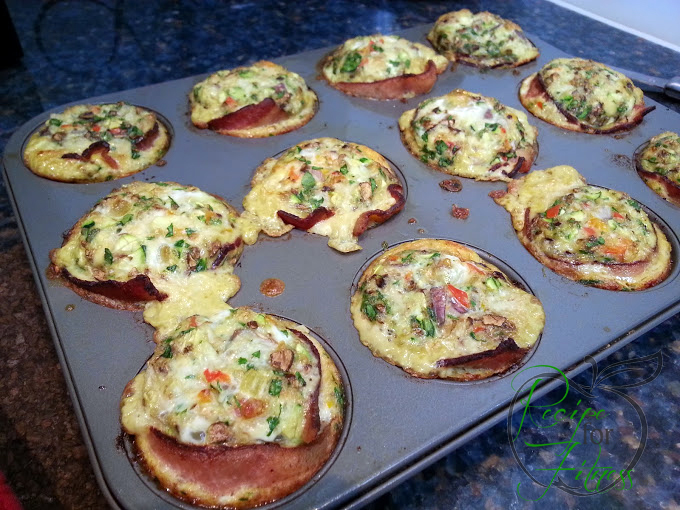 Everything is better with bacon, right? That's what my family tells me, and you know what? They're right! I love cooking with bacon -and keeping it clean! Start with a high quality uncured bacon, check the ingredients to make sure there are no nasty additives or additional sodium, and proceed to wow yourself! Many brands now are offering uncured bacon, including Applegate Farms, Open Nature (Safeway), Pederson's and more!
The trick to this recipe is to cook the bacon strips in a skillet until gently browned and softened, then transfer them to the muffin tin. See directions below.


Bacon Egg Muffins

Makes 12 muffins
Ingredients
12 slices uncured bacon (check label for Gluten Free)
6 eggs, whole
18 egg whites
4 mini peppers, any color. Cored.
1 small zucchini, end removed.
1/4 of an onion
1 cup baby spinach
5 crimini mushrooms, stems trimmed
spray oil
Directions
Heat oven to 375 degrees.
Spray 12 cups of muffin tin
In a skillet, cook the bacon strips until gently browned (flipping halfway), then remove to a paper-towel lined plate and blot dry.
In a food processer, mince all the veggies (or shred/dice as desired). Add them to a large bowl.
Add 6 whole eggs, and 12 egg whites. Mix well.
Wrap 1 slice of bacon around each muffin well.
Divide egg/veggie mixture between the wells, pouring nearly to the top (you don't want these to overflow).
Bake for 20 minutes, and check for doneness. A knife inserted will come out with crumbles or clean - no liquidy egg.
Remove to wire rack to cool.
Serve or store in air-tight container in refrigerator until needed.

Nutrition Information: per egg-muffin: 98 calories, 10 grams protein, 2 grams carbs, 5 grams fat, 0 grams fiber, 217 mg sodium.