Ready to Succeed?
Don't "diet", instead, Transform Your Life! We offer meal plans with recipes that taste GREAT! Enjoy your food, live your life, and reach your goals!

Learn More
Healthy Recipes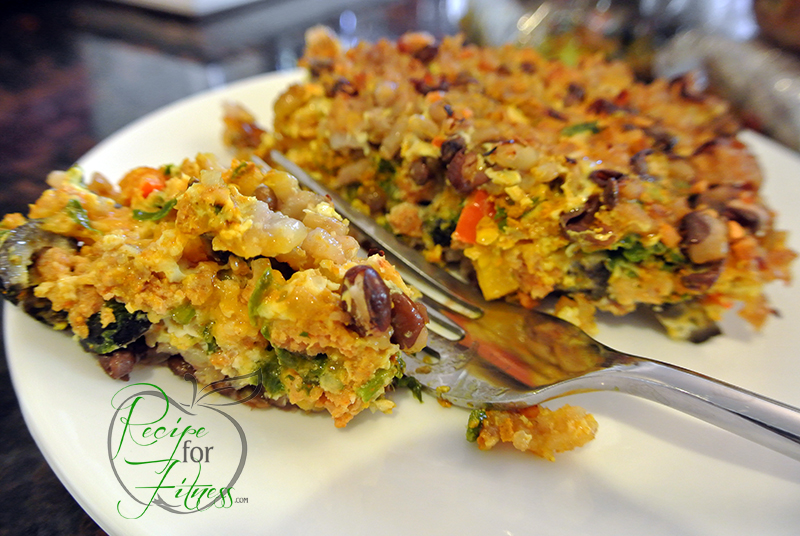 Here's another great recipe inspired by The Feed Zone Portables. You can prep this tasty dish for a family meal or wrap it up into portable bars - either way, you're going to love this one! Packed full of amazing nutrients, this is a perfect meal for a healthy lifestyle.


Chorizo Meal Bar


(or casserole)
makes 6 servings
INGREDIENTS
1/2 cup (dry) Sushi Rice (see note below)
1/2 cup (dry) Sprouted bean blend (I used tru Roots Sprouted Bean Trio - available at Costco or online)
1 cup egg whites
1 cup baby spinach, chopped
1/2 cup red pepper, chopped (use a variety of colors if you like)
1/4 cup cheddar cheese, grated
1/2 lb ground chicken breast as Chorizo (if you can't find it in your store, use the recipe below the directions)
1/2 tsp Turmeric
1/2 tsp Mrs Dash Southwest Chipotle
2 oz sliced black olives, drained and rinsed
Spray Oil
NOTE: Sushi Rice - Some manufacturers actually label this as Sushi rice and you can find it typically in a container on the top shelf. Also acceptable are Calrose or Jasmine. These will result in the "sticky" rice you need to make this recipe. Brown rice will not work.

DIRECTIONS
Cook sushi rice and beans together according to rice instructions (because the beans are sprouted, they are 'fast cooking' and cook at the same rate as the rice - treat them like the same amount of rice).
Cook chorizo, then drain if needed.*
Preheat oven to 375 degrees.
Lightly spray 8x8 baking dish with cooking oil.
Spread half rice/beans in bottoms of dish, covering evenly.
Sprinkle with half the Mrs Dash and Turmeric.
In a bowl, stir together chopped spinach & peppers, olives, cooked chorizo, cheese and egg whites.
Pour over the rice/bean layer and spread evenly.
With remaining rice/beans, create a thin cover layer then sprinkle the other half of Mrs Dash and Turmeric across the top.
Cover loosely with foil and bake 30 minutes.
Remove foil, and bake another 10 minutes or until top layer of rice is golden.
Cool on wire rack then slice into 6 even portions.
Wrap portions in saran wrap and refrigerate.
Grab and go as needed!

Inspired by Feed Zone Portables by Biju Thomas and Dr. Allen Lim

*Chorizo is simply strongly flavored mexican sausage made from ground chicken breast. This is not the traditional fatty pork sausage. You can easily make your own using the recipe here: http://blog.recipeforfitness.com/2011/09/bonus-recipe-chorizo-tacos.html

*TIP: Add chopped onion and/or green chilies!

NUTRITION
Per Serving 191 calories, 18 grams protein, 21 grams carbs, 4 grams fat, 3 grams fiber, 214 mg sodium.
Brown the chorizo. Place veggies in a bowl.

Mix together the veggies, cheese, cooked chorizo and egg whites.

Using half the cooked rice/beans, create a thin layer as a crust. Sprinkle with half the Mrs Dash and Turmeric.

Pour mixture over the "crust" and spread evenly.

Using remaining rice/beans, create a thin layer on top of the mixture. Top with remaining Mrs Dash and Turmeric

Side view of the layers.

Cover with foil and bake 30 minutes. Remove foil and bake another 10. Cool on wire rack, then slice into 6 equal portions.

Either serve immediately or wrap servings in saran wrap for tasty grab-and-go meals.