Ready to Succeed?
Don't "diet", instead, Transform Your Life! We offer meal plans with recipes that taste GREAT! Enjoy your food, live your life, and reach your goals!

Learn More
Healthy Recipes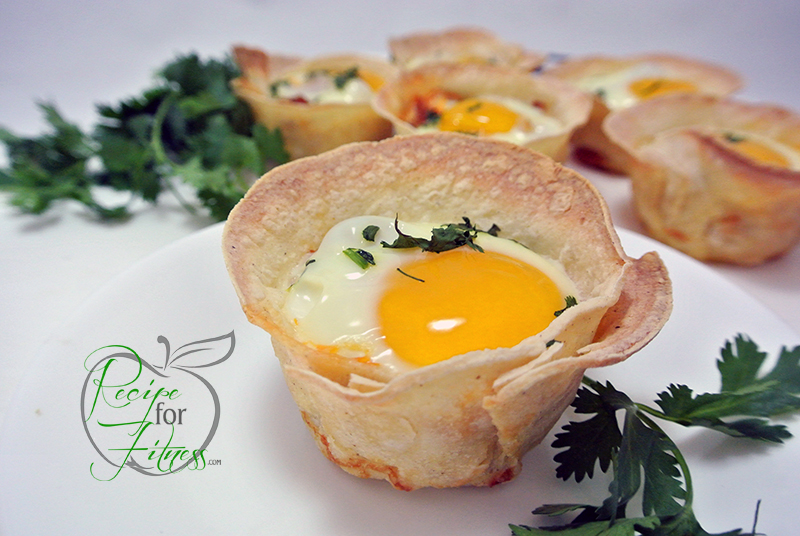 Occasionally, I'll spend a whole day just playing in the kitchen... It's a lot of fun, and I usually end up starting out with one idea in mind only to have it expand like rabbits and next thing I know I've got several recipes going at once, lol! This Egg Cup recipe came out of one of those crazy kitchen days... and let me tell you, it tastes even better than it looks! You can easily tweak this recipe to fit your own nutritional needs...
● Increase protein: add more chorizo (see note below), add more egg whites
● Reduce fat: Eliminate the yolk (but it's so pretty!), or the cheese
● Increase carbs: add brown rice or black beans

So go ahead... play with your food! ;-)

Easy Chorizo Egg Cups

Makes 9 servings
Ingredients
9 eggs, whole
9 egg whites
9 GF small corn tortillas (6")
1/4 lb chicken chorizo (view recipe for clean, added-fat-free chorizo)
9 tsp shredded cheddar cheese
1/8 cup chopped fresh cilantro
spray oil
Directions (see photos below)

Heat oven to 375 degrees.
Spray 9 cups of muffin tin
Gently press and fold tortillas into cups.
Cook chorizo, drain if needed. (see note below)
Sprinkle 1 tsp cheddar into each cup.
Divide chorizo into the 9 cups.
Pour one egg white into each cup.
Crack a whole egg into each cup.
Sprinkle with cilantro.
Bake for 20 minutes, remove to wire rack to cool.
Serve or store in air-tight container in refrigerator until needed.
NOTE: The chorizo I use is not the traditional high-fat pork sausage... this is made from ground chicken breast and natural ingredients. It's incredibly low fat and fantastically flavorful. Cook up a whole batch of chorizo, and store (freezer or fridge) what you don't need for this recipe. That way you'll have it ready whenever you need it!

Nutrition Information: per egg-cup: 169 calories, 14 grams protein, 13 grams carbs, 6 grams fat, 2 grams fiber, 182 mg sodium.