Ready to Succeed?
Don't "diet", instead, Transform Your Life! We offer meal plans with recipes that taste GREAT! Enjoy your food, live your life, and reach your goals!

Learn More
Healthy, Clean Eating Recipes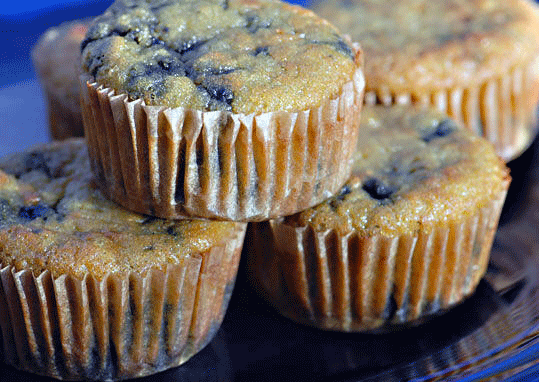 This terrific treat comes from: http://www.elanaspantry.com/blueberry-muffins/
Gluten Free

Blueberry Muffins


Makes 12 full sized muffins

Ingredients
● ½ cup coconut flour, sifted
● ½ teaspoon celtic sea salt
● ½ teaspoon baking soda
● 6 eggs
● 1/3 cup agave nectar
● 1/3 cup grapeseed oil
● 1 tablespoon vanilla extract
● 1 cup blueberries, fresh or frozen
Directions
● In a small bowl, combine coconut flour, salt and baking soda
● In a large bowl, combine eggs, agave, grapeseed oil and vanilla and blend well with a hand mixer
● Mix dry ingredients into wet, blending with a hand mixer
● Gently fold in blueberries
● Place batter in paper lined muffin tins
● Bake at 350° for 20-25 minutes
● Cool and serve
● Makes 12 muffins

CHELLE'S NOTES:
Celtic Sea Salt: I don't purchase Celtic Sea Salt because it's very expensive. Instead I buy the best available for the lowest price. Any fine-ground sea-salt will do.

Grapeseed Oil: I am currently replacing my cooking oils with coconut oil for the health benefits it offers. The muffins I made all used coconut oil instead of grapeseed. Though on this recipe, the muffins were a bit "greasy", so I may play with cutting back the amount of coconut oil.