One-Day Food Prep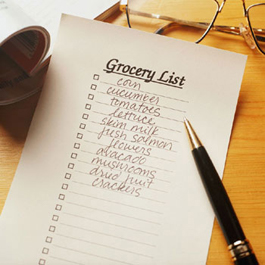 Planning your grocery shopping is one of the best tools you have. Know what's on sale and where, know what's seasonal (and therefore cheaper), and plan your meals accordingly.
So now our menu is planned, it's time to break it down into what we need to make all this clean, healthy food happen...
Sample Grocery List
Quick recap:
Recipes for the week:
Enchilasagna & Salad
Mini Chicken Loaves
Oatmeal
Tacos & Taco Salad
Stuffed Eggplant
Maple-Soy Glazed Steak
Scrambled Egg Whites
Popcorn
Steamed Veggies
Brown Rice

Now let's make the list... I'm going to do this for my family, so adjust the amounts to what you need.
Meat:
Ground Meat -
● 1 lb ground beef for enchilasagna
● 1 lb ground beef for taco meat
● 1 lb chicken chorizo for taco meat
● 2 lbs ground chicken breast for chicken loaves
● 1/2 lbs ground beef for stuffed eggplant.
● 1/2 lbs ground chicken breast for stuffed eggplant.
Steak - Either a large london broil or a flank steak, depending on what's on sale and how many of my family members will be home for that meal.
Chicken Breasts - In the menu, I'm eating 4 oz of chicken breast (about half a breast) 5 times (which is about 3 breasts), additionally, I need to boil and shred (or crockpot) 2 breasts for the enchilasagna, plus whatever my family needs. I grill up chicken and slice it thin for their sandwich meat. I typically cook 8-10 breasts.
Dairy:
Greek Yogurt - I buy plain Greek Yogurt. According to this menu, I'm potentially having 6 oz of yogurt 3 times, so I need at least 18 oz, plus a few more ounces for tacos and taco salad nights.
Cottage Cheese - I buy 4% as the 0% has additives. According to this menu, I'm potentially having 1/2 cup of cottage cheese 2 times, so I only need the 8oz container.
Shredded Cheddar - (look for a brand with no artificial colors or preservatives). For my large family, I need 4 cups for the enchilasagna, 2 cups for taco and taco salad night, so a total of 6 cups.
Egg Whites - a carton will get me through a couple weeks.
Eggs - I typically boil an 18 pack for my family's use.
String Cheese - my family LOVES this!
Sour Cream - my family uses sour cream on their tacos, I use plain greek yogurt
Produce:
Fruit - Apples, berries, banana (serving is half), grapefruit, strawberries...
Vegetables - Eggplant (2 for my family), Cilantro (for the enchilasagna), Zucchini, yellow squash, asparagus, salad bags, baby carrots, turnip (for dipping in cottage cheese), shredded cabbage, tomato, onion, crimini mushrooms, peppers...
Dry/Canned Goods/Etc:
Brown Rice - I like the 10 minute boil bags
Black Beans, Low Sodium - 1 can for the taco meat
Canned Tomatoes - Watch the labels for additives or sneaky-sodium! I like the Muir Glen products. 1 can for enchilasagna beef, 1 can for taco meat, 1 can for stuffed eggplant. 1 can for the brown rice (I love the extra flavor!). Total 4 cans, any variety.
Enchilada Sauce - 1 can green, 1 can red
Sliced Black Olives - 2 cans (1 for enchilasagna, 1 for taco meat)
Diced Green Chilies - 1 can for enchilasagna
Salsa - for tacos, taco salad, and scrambled egg whites
Oatmeal - 1/2 cup X 7 days = 3.5 cups just for me (more if anyone else is eating it)
Corn Tortillas - for enchilasagna
Taco Shells
Tortilla Chips - I like Tostitos NATURALS
Wraps - Look for bread products that do NOT include junky additives and preservatives.
Bread - My family is big on sandwiches
Granola - look for LOW sugar, without junky additives (or make your own using my recipe).
Sake - for steak marinade
Dark Sesame Oil for steak
Staples:
Flax Seed - buy whole & grind yourself, or get it already ground
Unsweetened Almond Milk
Popcorn
Coffee
Coconut Oil
Sea-Salt
Cinnamon
Mrs Dash - Southwest Chipotle, Extra Spicy, Garlic & Herb
Ziploc Steamer Bags
Ziploc sandwich size baggies
Ziploc snack size baggies
Protein Powder (20g protein per serving)
Maple Syrup - pure
Sriracha (asian hot sauce)
Soy Sauce - low sodium, for steak
Nut Butter - no sugar added
Olive Oil
Vinegar (lots of choices!)
Honey - preferably a local variety - this is my family's go-to sweetener. Other options are Sucanat (Sugar Cane Natural or Evaporated Cane Juice), agave nectar, stevia, maple syrup).
Check your pantry to make sure you're not buying something you already have.
Now that our grocery list is ready, it's time to hit the store.... Go shop, steering clear of all the junk & crap... then
let's prep
!
Sample Prep Sample Cooler Back to Main
Bonus: Food Tips & Products