Ready to Succeed?
Don't "diet", instead, Transform Your Life! We offer meal plans with recipes that taste GREAT! Enjoy your food, live your life, and reach your goals!

Learn More
Healthy Recipes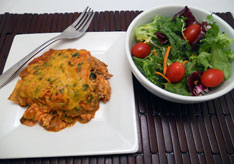 This recipe is amazing. Truly amazing. My family loves it. Friends love it. It tastes sinfully wonderful, and yet is healthy! Can't beat that. The original is in Devin's book, "The Most Decadent Diet Ever", and I've tweaked it a bit to clean it up and increase the protein. Original recipe can be viewed here. The recipe below is mine with all the tweaking.
Chicken Enchilasagna

Makes 12-16 servings
Prep Time: 30 mins
Total Time: 1 hr 5 mins

Ingredients:
● 2 teaspoons Mrs. Dash Southwest Chipotle
● 2 teaspoons Mrs. Dash Extra Spicy
● 2 cups cooked shredded chicken (I used chicken from my sunday food prep, shredded)
● 2 cups (1 lb) ground bison
● 1 14 ounce can Muir Glen diced fire roasted tomatoes
● 1 28-ounce can traditional mild enchilada sauce
● 1 28-ounce can medium green chili enchilada sauce
● 8 oz. (about 4 cups) finely shredded Tillamook medium cheddar (I use Tillamook because it has no added colors, preservatives, etc.)
● 1/2 - 1 cup chopped fresh cilantro
● 1/2 cup sliced drained black olives
● 1 small can chopped, drained green chilies
● 12 6-inch yellow corn tortillas (I use Ezekiel Sprouted Corn Tortillas)


Directions:
● Preheat the oven to 450°F.
● Brown the ground bison (or lean beef), season with the 2 Mrs. Dash flavors.
● Drain meat then add the can of diced tomatoes. Don't drain it.
● Add the shredded chicken until the seasonings are well mixed. Set aside.

● Meanwhile, combine the enchilada sauces in a medium bowl and mix until well combined. Set aside.
● Mix the cheese, cilantro, olives, and chilies in a second medium bowl. Set aside.
● Cut or tear each tortilla into about 9 roughly even pieces.

● Spread 1 cup of the enchilada sauce in the bottom of a 9 X 13-inch glass or ceramic baking dish.
● Cover the sauce evenly with about a third of the tortilla pieces.
● Then sprinkle about half of the chicken & bison over them.
● Pour about 1 cup of the sauce evenly over that.
● Then sprinkle a third of the cheese mixture over that.
● Repeat layering with half of the remaining tortillas, the remaining chicken, 1 cup of sauce, then half of the remaining cheese mixture.
● Follow that with another layer of the tortillas, then the remaining sauce, then the remaining cheese mixture.
● Cover with foil and bake for 25 minutes.
● Remove the foil and bake for another 5 minutes.
● Then remove from the oven and let stand for 10 minutes. Serve immediately.

NOTE: The original recipe, is half this amount and is made in an 8x8 pan. You can easily halve my recipe.
Nutrition Information:
Using NutritionData.com, I got a rough estimate. The fat content, for instance, will go up or down depending on the meat you use, and if you increase the cheese. The carbs will go up or down depending on how many tortillas you use. The protein will go up or down depending on how much you use (super easy to increase it!). Sodium isn't listed here, but you can reduce it by buying chicken and beef/bison without sodium added (watch your labels), and purchasing ingredients that are low in sodium.
Serving Size 1/12 of pan (using 13x9 as per my recipe)
Calories: 328
Fat: 14 g (6 of which are sat fats - healthy ones)
Carbohydrate: 32 g
Protein: 22 g


Gluten Free Tip... this can easily be gluten free simply by choosing canned products that are GF.