Ready to Succeed?
Don't "diet", instead, Transform Your Life! We offer meal plans with recipes that taste GREAT! Enjoy your food, live your life, and reach your goals!

Learn More
Healthy Recipes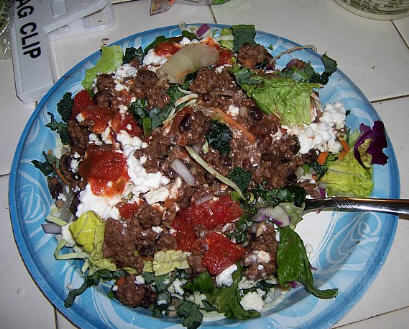 My family LOVES Taco Salad, so I found a way to make it clean :-)
(And, mwa-ha-ha, they don't even know!)

SPECIAL NOTE: Bill and the kids use cheddar and sour cream and tortilla chips, I use feta and cottage cheese and I skip the chips.



Clean Taco Salad

Ingredients:
● 2 lb's ground beef or bison or 97-99% lean turkey (to reduce fat further, after cooking, rinse meat in a sieve/colander with warm water, then return to pan, add more seasoning, and re-heat)
● Mrs. Dash Fiesta Lime or Southwest Chipotle seasoning
● 1 Can Refried Black Beans
● 1 Can low-sodium black beans
● Bag of Salad
● Shredded Cabbage
● Chopped Kale
● Salsa
● Plain Greek Yogurt and/or Cottage Cheese
● shredded Cheddar and/or Feta
● Chopped onion (optional)
● Tortilla Chips (optional)

Directions:
● Brown ground meat & season.
● After draining (and rinsing to remove fat), add refried black beans and black beans (rinsed), stir together and heat.

● Set out everything else, and allow everyone to "build" their salads.
● Begin with lettuce/salad, and layer from there!
● This recipe is high in fiber and protein plus has all the veggies & healthy fats to create a very filling and clean meal :-) Bill and the kids start with a layer of tortilla chips, but I skip them.

Photo of Bill's salad: