One-Day Food Prep
When you choose a clean-eating lifestyle, you might find yourself spending more time reading labels than actually cooking! Don't worry, while scrutinizing nutrition labels is now a part of your life, the time it takes to find trustworthy products will reduce. To save you some of that exploration time, I've offered a list of products in various categories that I trust and purchase for my own family.

As with any food... read the label. Watch out for sodium levels, as well as sugar, saturated fats, and additives.
Products We Recommend
With the only exception being Champion Performance products (I am a sponsored athlete), I do not receive any endorsement, payment, perks, or otherwise from the products (or their companies) I recommend. These are simply the products that I have found and use for my own family.
Grains Bread Lunch Meat Protein Powder
Yogurt Condiments Chips/Crackers Swaps & Tips
Finding a low-sodium, low-sugar lunch / deli meat is a challenge, so when I discovered some, I felt I should take out billboard space! :-) I buy my deli products at Whole Foods, from their deli. My products are sliced fresh for me, and are cheaper than buying the packages! Further, the meats and cheeses are preservative, hormone and chemical free. Always.

How do you pick a clean lunch / deli meat? Read the label. Look for: low-sodium; low-sugar; no preservatives (uncured is good!); no nitrates/nitrites; no high fructose corn syrup (HFCS or corn sugar); sea-salt is preferred to salt; low-fat; hormone-free.

Here are my picks:
● Golden Farms No-Salt Added Turkey Breast (50 mg sodium per 2 ounce serving!)
● Golden Farms No-Salt Added Chicken Breast (50 mg sodium per 2 ounce serving!)
● Applegate Farms Uncured Ham
● Also at the Whole Foods Deli Counter: Pepperoni, Salami, and more!
● Tillamook Medium Cheddar
● Provolone and Swiss

Additional products....
● Open Nature Lunchmeat, Sausages and Uncured Hot Dogs (available at Safeway)
● Applegate Farms sausages (many varieties) - Great on Pizza or in omelets!
● Applegate Farms The Great Uncured Hot Dog
● Applegate Farms Traditional Sliced Bacon (read the labels! Compare ingredients and sodium content to other choices)
● Wellshire Farms Traditional Sliced Bacon (read the labels! Compare ingredients and sodium content to other choices)
● Wellshire Farms Ready To Use Bacon Bits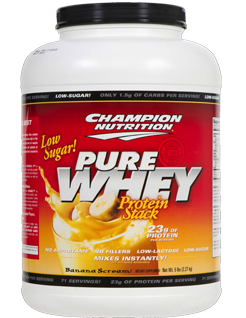 I use, and highly recommend the Champion Performance line of products. They have a variety of protein blends and an abundance of flavors. The taste is terrific and the powders offer a wide-spectrum of nutritional benefits. Click on the photo to visit their website and read all about it.
If you're looking for a whey/casein blend, Beverly's Ultimate Muscle Protein powder is top of the line. I've used this for 5 years and LOVE it! It tastes great, mixes wonderfully in everything from water to oatmeal to pancake mix, homemade protein bars and more! Click on the photo to visit their website and read all about it.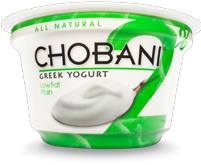 Yogurt
#1 Choice: Chobani Greek Yogurt - Plain.
It's so easy to add your own "stuff" to this yogurt. It's smooth and creamy, with a mild flavor. Other greek yogurts tend to be "bitey" or bitter. This one isn't. You can choose their 0% fat, 2% fat or 4% fat versions.

Additions: I personally add (to 1 cup of yogurt) 1/2 cup fresh berries and 2 tbsp ground flax with a dash of cinnamon or a quarter cup of granola.
Bill and the kids enjoy it with 1/2 cup fresh berries, 1-2 tbsp honey, cinnamon and/or granola. With the additions, my family loves this yogurt! They prefer it to Yoplait or any of the other flavored varieties on the market.
A favorite smoothie of the kids' is to take 1 cup Chobani, add 1-2 cups frozen fruit and blend until smooth.

Greek Yogurt is a fabulous replacement for sour cream. I like to mix it with Sriracha sauce (hot sauce) for a great salad dressing (also fantastic on burritos, tacos, etc). The Chobani is so mild flavored, that no one ever knows when I replace the sour cream in a dip recipe (or anything else) with this greek yogurt.

Ideas:
■ Mix 2 tbsp of Chobani Greek Yogurt, Plain, with a few drops of Sriracha (or other hot sauce) for a great salad dressing (also fantastic on burritos, tacos, etc).
■ Use in place of Sour Cream on Potatoes, in dips, in recipes.
■ Mix with diced green chiles and use as a sauce.
Another product we recommend is Siggi's Skyr... This is FABULOUS yogurt! Similar to Greek in texture, but creamier and tastier, PLUS it's fat free, higher in healthy probiotics, higher in protein, lower in sugar, and VERY balanced in carbs vs protein. It's GREAT!!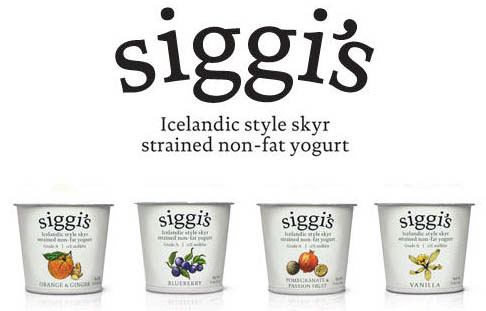 These are convenience foods that are wonderful options when prep time is short. I do all my food prep on Sundays, and I cook up a big batch of grains for the week (currently my pick is quinoa), but when I don't get to do all my prep, or life gets in the way, some of these these convenience packages are fantastic, and a much better choice than a trip through the drive-thru!
Ready Made:
Grains: Currently, I make a big batch of quinoa each Sunday, but I've been known to do brown rice, a blend of wild & brown rice, kasha... whatever strikes my fancy. My favorite right now is buying the quinoa in bulk (red, black and white) then mixing them together. I cook them (rinsing well first to remove the bitter outer coating) in low-sodium chicken broth instead of water. Awesome!
Pasta: My family just doesn't like Whole Wheat pasta. But the Quinoa pasta gets a full set of thumbs up! It looks like "regular" pasta, tastes phenomenal, and is healthy! Some of it is totally gluten-free, too!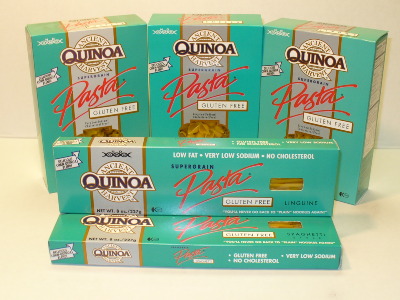 Homemade... When I make the time, I love to bake my own bread. My husband and his dad both prefer my bread to the store-bought (who knew!), and the recipe I use is really, really fabulous. Making your own bread is absolutely time consuming, but it's also comforting. I very much enjoy the process. Here's the recipe I use:
Homemade Whole grain bread - Maple Seeded Bread Recipe
Whole Grain, Bread by EarthGrains

This bread is a favorite around our house. It's not "heavy", in fact, it's kind of light. Best of all it tastes really, really good! Available at Safeway, Frys and other markets for $4.99/loaf ($2.50/loaf on sale).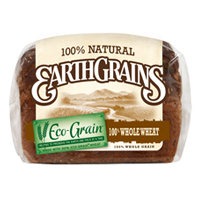 Whole Grain, Organic Bread by Alpine Valley

This bread is another favorite around our house. It's dense but not "heavy", filling but doesn't leave you uncomfortable full. Best of all it tastes really, really good! Available at Whole Foods Market for $4.99/loaf.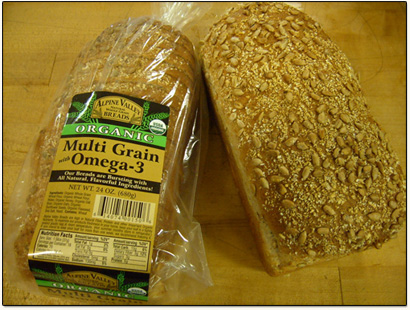 Other bread products:
FYI, sandwich thins & thin-buns make GREAT pizza shells! More and more of these style "buns' are showing up on the market. As always, watch your labels and look for Whole Wheat to be the first ingredient, no HFCS, and no junky additives.


Between Boboli & the California crusts, given a choice, I will always choose the California. Totally clean and super tasty!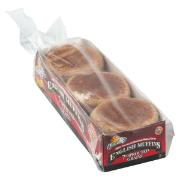 Wraps/Tortillas: 365 Organic (found at Whole Foods) Whole Wheat tortillas and Red Chili tortillas, and my new favorite, Sprouted Corn Tortillas (see below).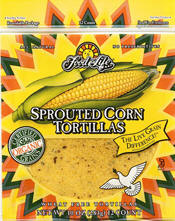 It's hard to find products "clean" enough (and cheap!) to use on a weekly basis. Staples for me are dijon mustard, yellow mustard, honey mustard, taco sauce, and barbecue sauce (ingredients should not include any preservatives or HFC). My local Safeway carries a fairly clean store brand Honey Mustard that the family loves. Fry's carries Macayo's brand Taco sauce (and Enchilada Sauces & Diced Green Chilies).

Other sauces/condiments are listed below:
Grandma Koyote's BBQ sauce is a new family favorite! The Hot & Spicy is AWESOME! They also make a no-sugar added one, too! Click the photo to view their website.
A very mild flavor, Robbie's is a good "all-purpose" bbq sauce. Available at Whole Foods.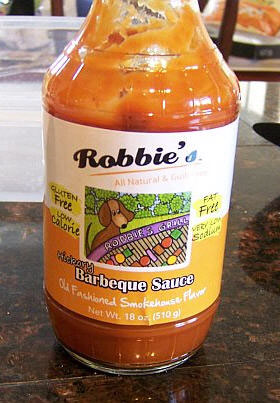 Need bacon bits? Wellshire Farms brand is perfect! Totally clean, and super yummy! Available online or at Whole Foods.These are the bacon bits I use in the Bacon Cheeseburgers (see recipe). Additionally, their sliced bacon is a healthy choice (see recipe for Bacon Wrapped Tillapia, and my Breakfast Burritos). Another good brand of bacon is Applegate Farms.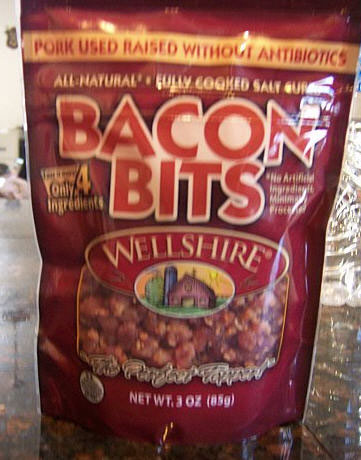 When I need a good crunch, my go-to is sliced raw turnips. Other options include Air popped popcorn; nut & rice crackers; seeds & nuts (we make a mix of walnut pieces, dried unsweetened apples and dark chocolate); raw veggies and tzaziki or salsa or cream cheese; pita chips and roasted red pepper hummus... there's so many good snacking options! Dr. Kracker is another favorite. Also, Tostitos & Ruffles both have come out with clean versions of their chips!
| | | |
| --- | --- | --- |
| | | |
| | | |
Easy Food Swaps & Tips!
For most of us, it takes many baby-steps to create a true lifestyle change. Part of mine, was food swaps. These baby steps weaned me off of products that I was using too much of, or simply shouldn't have been consuming at all. By swapping foods out, I was able to reduce my use (or eliminate it altogether). Once I went into maintenance phase, I began adding some items back in.

As with any food... read the label. Watch out for sodium levels, as well as sugar, saturated fats, and additives.

Butter = Olive Oil, Coconut Oil, or Sesame Oil. You CAN use butter - the real thing. It's a healthy source of the good saturated fats. Keep tight hold on your portions, though!

Ground Beef = The highest percentage of fat free is best, but it's a lot pricier than the fattier meat. Save the cash... get the 80% beef, season & cook, drain, then rinse in hot water to remove the fat. Now return to the pan, add more seasoning and serve. I've never tried it with Turkey or ground chicken or pork, but it works like a charm with beef and bison. Another trick I use to make the meat go further is to finely chop an 8 oz container of brown mushrooms for every pound of meat and add it to the meat as it cooks. I do this for spaghetti meat, burgers, pretty much anything I use ground meat for (except for chili).
Regular Milk = Fat Free Plus Milk (tastes just like regular milk!)

Lettuce = Iceberg lettuce has almost zero nutritional value and Romaine isn't far behind. Start adding some serious vitamins & minerals by mixing it up... do 1/2 lettuce, and 1/2 shredded cabbage or baby spinach or both! Currently I'm on a Dino Kale kick, so I use shredded cabbage & spinach for wraps, and Kale for my salads. Also, shredded raw Brussels Sprouts are very similar to cabbage... tasty!

Salad Dressing = oil & vinegar, spray dressings (watch labels for added crap), lemon juice (my own choice), flavored olive oils, mix 2 tbsp plain greek yogurt w/a few drops of sriracha (hot sauce).

Cheese = Trade any full fat cheese for a 2% variety. I use feta nearly every day...in small amounts. Good cheeses have more flavor and allow you to use less, but still get the taste you want. Cheese is fine in moderation. HOWEVER - if you are trying to get pregnant, ONLY use whole/full fat dairy as studies have shown that reduced fat dairy impedes conception.

Sour Cream = Either cottage cheese or plain yogurt or greek yogurt or skyr (either one gives you an added boost of protein!), or Light Sour Cream (but watch the label for sugar & sodium, and extra additives).

Soda = Tea, Water with lemon slices, black coffee, Crystal Light sparingly, Pepsi One or Coke Zero if you just have to have one - (yes, I said ONE), fruit juice - sparingly (watch carefully for % of juice... you want 100% juice, even if the sugar is higher... this is natural sugar that your body knows how to deal with, as opposed to the refined & processed stuff that it just stores and converts to fat because it doesn't know what else to do with it) and you can also cut your juice with water or sparkling water to reduce the sugar. I mention Crystal Light, because it's an easy substitute for soda, and baby steps are fine. Dump soda, drink crystal light. Then slowly wean yourself off it altogether. Your clean lifestyle does NOT include crystal light or soda except as an occasional treat.

Sugar = Sucanat (Sugar Cane Natural), Honey, Maple Syrup (pure) or Agave Nectar. Dump the white refined stuff. Also dump the sugar substitutes... they're NOT natural, they're created in a lab, and there's just too many questions about their toxicity. Use the real stuff (Sucanat) and use it sparingly. Alternatives to Sucanat: Turbinado, Demerara, Sugar in the Raw. Stevia is making headway in the market, do your research and determine if it's a good fit for you.

White Bread = Whole wheat bread (check the nutrition label, if the first ingredient listed isn't "whole wheat" then it's really not. Find one that is).

Hamburger buns... at least switch to a whole wheat variety, but another option is to use large portabella mushroom caps. I love doing this, though I'm the only one in the family who does, lol. I simply spray with olive oil, sprinkle with mrs. dash and grill the cap on my George Foreman grill, then top with my burger and veggies. The caps are super juicy, so I only use one (open face burger), but very flavorful. Pop out the stem core, and using a spoon scrape out the black "gills". Rinse, drizzle, season, grill. Easy! Another option is to wrap your burger in green-leaf lettuce. Thin buns are all the rage, now, too... watch the labels and pick a clean one.