Ready to Succeed?
Don't "diet", instead, Transform Your Life! We offer meal plans with recipes that taste GREAT! Enjoy your food, live your life, and reach your goals!

Learn More
Healthy Recipes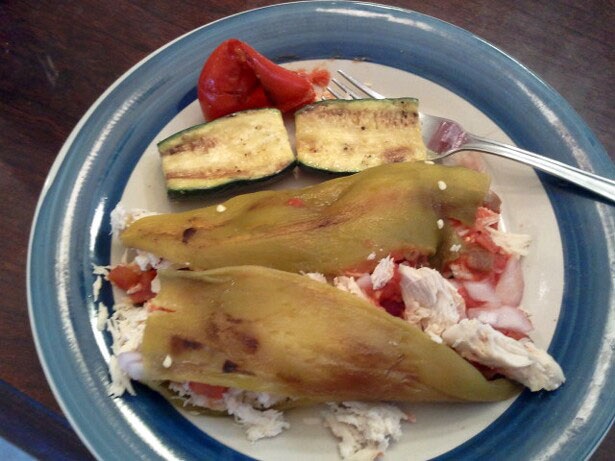 I love a good roasted stuffed chili, but being on competition diet, I didn't allow for the usual cheese, breading, etc. This version is super-simple, but incredibly tasty!

Stuffed Chilies

Makes 8 loaves



Ingredients:
● Roasted Chilies (Anaheim, Pasilla, whatever appeals to you!)
● Shredded meat of choice (i.e. - chicken breast, pork tenderloin)
● Salsa
● Cheese (optional - Feta is a great choice)

Directions:
To roast chili peppers...
● Wash 'em and toss 'em on the grill
● Turn them often until the skin is bubbly
● Allow them to cool
● Cut off the tops
● Scoop out the seeds and peel off the charred skin
● Store the peppers until needed.

To cook the meat...
● Place your meat in a crock-pot with 1-2 cups low-sodium chicken broth and a few sprinkles of Mrs. Dash Garlic & Herb.
● Cook on high until meat shreds easily.
● Remove meat to a plate and using two forks, shred it up.
● You can store it in an airtight container, with the juices from the crock-pot, for up to a week for use as needed.

For each chili...
Ingredients:
● 4 oz shredded meat
● 2 heaping Tbsp salsa (there are a ton of varieties, so try a different one every time!)
● Cheese (optional - feta, sharp cheddar, etc)
Instructions:
● Mix the meat & salsa (and cheese if using) together
● Gently stuff inside the chili pepper.
● You can either heat in the oven (350 for about 10-15 minutes) or in the microwave.