Ready to Succeed?
Don't "diet", instead, Transform Your Life! We offer meal plans with recipes that taste GREAT! Enjoy your food, live your life, and reach your goals!

Learn More
Healthy Recipes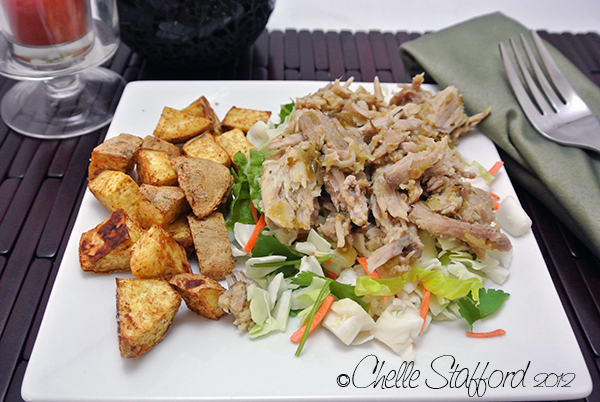 Ever get a craving for spicy, sweet and salty - all at the same time? Then this recipe is for you! It's super easy and amazingly flavorful! Tender, spicy pork served alongside sweet & salty baked sweet potatoes...
It's clean and healthy (though it tastes so good, you'll think it's a cheat meal!)!


Slow Cooker Pork Verde
with Baked Salty & Sweet Potatoes




by Chelle Stafford
Makes 12 servings of pork-verde
Ingredients:
FOR THE PORK VERDE:
3 lb lean pork roast (like tenderloin or as lean as you can find)
1 jar Salsa Verde (24 oz) (look for low sodium, low sugar, gluten free)

FOR THE POTATOES:
1 small sweet potato per person - about 4 oz (white fleshed)
1/4 - 1/2 tsp cinnamon per potato
1/2 packet powdered Stevia per potato
Spray oil (I used coconut)
Sea Salt
Directions:
FOR THE PORK VERDE:
Place roast in slow-cooker, add 1/2 jar of salsa verde.
Cook on high 4-6 hours, or until meat shreds easily with a fork.
Drain liquid, remove roast to a shallow dish and shred.
Add remaining 1/2 jar of salsa verde, mix well.
TIP: Serve over a bed of chopped cabbage, cilantro, romaine & carrots! (as pictured).
FOR THE POTATOES:
Preheat oven to 400 degrees.
Line a cookie sheet with foil and spray with cooking oil (I used coconut).
Dice potato(es), place in a small bowl and spray with cooking oil.
Add cinnamon and stevia, mix well.
Spread potato chunks on cookie sheet and sprinkle with sea-salt.
Bake at 400 degrees for 20 minutes, or until a knife easily pierces the chunks.
Serve.
NUTRITION
Pork Verde: 156 calories, 26 g protein, 4 g carbs, 3 g fat.
Baked Sweet Potatoes: 116 calories, 2 g protein, 28 g carb, 1 g fat, 5 g fiber. 23 g net carbs.