Ready to Succeed?
Don't "diet", instead, Transform Your Life! We offer meal plans with recipes that taste GREAT! Enjoy your food, live your life, and reach your goals!

Learn More
Healthy Recipes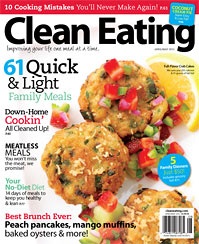 This is soooo good!!! The recipe calls for Flounder, but we've done it with Halibut, Cod, Tilapia, Chicken and Pork... it's been a hit all the way around! The only change, is if you make this for chicken or pork (or anything with a longer cooking time) wait to add the pecans until the last 10-15 minutes.

I love to serve this with Chipotle Smashed Sweet Potatoes!

Source: Clean Eating Magazine April/May 2011, pg 44/45.
Baked Pecan Crusted

Main Dish

Recipe makes 4 servings

Ingredients:
● Olive Oil Cooking Spray
● 4 4-oz boneless, skinless Pacific Flounder fillets, rinsed and patted dry.
● 1.5 tsp raw honey
● 1.5 tsp prepared mustard
● 1 packet stevia (or Sucanat)
● 1/4 tsp sea-salt
● 1/8 tsp cayenne pepper
● 1/4 cup unsalted pecan pieces, toasted and finely chopped


Directions:
● Preheat oven to 425 °F
● Line a large baking sheet with aluminum foil and coat foil with cooking spray
● Place fillets on foil
● In a small bowl, combine honey, mustard, stevia (or Sucanat), salt and cayenne.
● Brush tops of fillets with mustard mixture, dividing evenly.
● Sprinkle pecans over top, dividing evenly, & coat tops of fillets with cooking spray.
● Bake for 12 minutes or until fish flakes easily with a fork.

NOTE: Chicken or pork take longer. Typically ours cook in about 25-40 minutes, depending on the thickness of the meat. The last 10-15 minutes of cooking, add the pecans.