Ready to Succeed?
Don't "diet", instead, Transform Your Life! We offer meal plans with recipes that taste GREAT! Enjoy your food, live your life, and reach your goals!

Learn More
Healthy, Clean Eating Recipes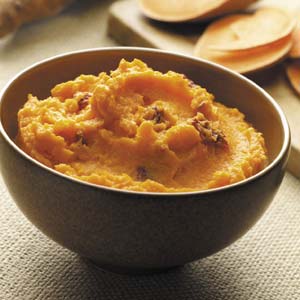 This is based on a recipe by Devin Alexander, but I tweaked it and cleaned it up... It's sweet and spicy, but won't derail your dietary goals. You can whip these up in your One-Day-Food-Prep, then enjoy them all week long!


Chipotle Mashed

Sweet Potatoes


Makes 6-8 servings

Ingredients:

3 large sweet potatoes (the orange ones)
1 tbsp unsalted butter (local if available)
3 tbsp chipotle peppers in adobo sauce (slice them open, scrape out seeds then dice)

Peel sweet potatoes and cut into 1-inch chunks. Boil in salted water until tender. Drain.

In a bowl, add the sweet potatoes, butter and chipotle peppers. Beat (I use a hand mixer) until reaching the desired consistency (we like them a little bit chunky). Serve.