Ready to Succeed?
Don't "diet", instead, Transform Your Life! We offer meal plans with recipes that taste GREAT! Enjoy your food, live your life, and reach your goals!

Learn More
Healthy Recipes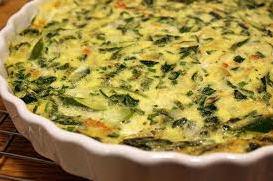 This was really, really good! Got a thumbs up from the whole family! :-)
Crustless Spinach

Quiche

From Muscle & Fitness Hers,
Sept/Oct 2010 Pg. 26

Serves 4

Ingredients:
● 1 tsp olive oil [I didn't use, see note on onion]
● 1 small onion, finely chopped [I used 1 tbsp Mrs Dash Onion & Herb instead, as Bill doesn't like the texture of onion]
● 2 garlic cloves, minced
● 1 link Italian Chicken Sausage [I used Aidells Chicken & Apple]
● 12 egg whites
● 3/4 cup shredded cheddar
● 1/2 cup frozen spinach, thawed and drained (well!)
● Kosher salt & cracked pepper to taste [I used a dash of sea-salt, and no pepper since I used Mrs Dash]
● Nonstick cooking spray

Directions:
● Heat oven to 350 degrees.
● In a large skillet, heat olive oil, onion and garlic, sautéing until lightly browned [I skipped the skillet step].
● Cut sausage into small cubes and set aside.
● In a large mixing bowl, whisk egg whites for 1 1/2 to 2 minutes.
● Add cheese, sausage, spinach, sautéed onion (if using) and garlic, and salt & pepper (or sea salt & Mrs. Dash).
● Coat a 9-inch glass pie dish with non-stick cooking spray and pour mixture into it.
● Place dish in oven and bake 40-45 minutes or until center is no longer liquid.

NOTE: Mine required a total cooking time of 70 minutes. I think my spinach probably wasn't as well drained as it could have been so I had to keep draining off "water" from the center of my quiche. However, once it was fully cooked it was truly amazing! I served it with steamed snow peas & cherry tomatoes.