Ready to Succeed?
Don't "diet", instead, Transform Your Life! We offer meal plans with recipes that taste GREAT! Enjoy your food, live your life, and reach your goals!

Learn More
Healthy Recipes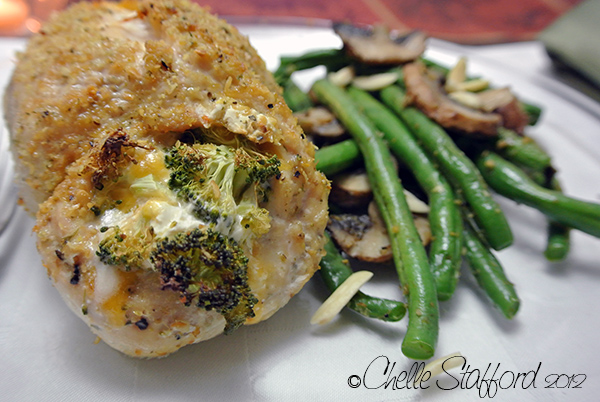 I love stuffed chicken, but the usual recipes are typically an excess of fat and sodium. This recipe is my answer - providing a rich and flavorful entree that is also healthy and training friendly! It comes together quickly and tastes like you've slaved in the kitchen for hours! ;-)
Serve alongside your favorite steamed veggies (check out my steamed green beans and mushrooms seen above!).
Broccoli & Cheese Stuffed Chicken

by Chelle Stafford


Serves 3

Ingredients:

1 small crown of broccoli
3 chicken breasts
Mrs. Dash Garlic & Herb
3 Tbsp shredded sharp cheddar cheese
3 Tbsp cream cheese
3 Tbsp ground flax seed
Spray oil (I used olive oil)

Directions:

Preheat oven to 400°
Spray baking dish with oil
Chop broccoli into small pieces
Wrap chicken breasts in plastic wrap and pound to less than 1/2 inch thickness with a meat-mallet
Sprinkle both sides of chicken with Mrs Dash, then turn so the "inside" is up.
Spread each breast with 1 Tbsp cream cheese
Sprinkle each breast with 1 Tbsp sharp-cheddar
Divide the broccoli among the breasts
Carefully roll up each breast, beginning with wide end, pressing filling in as needed
Use toothpicks to hold breasts in place
Sprinkle each breast with Mrs Dash, and 1 Tbsp ground flax seed
Bake at 400° for 30 minutes or until a meat thermometer reads 170° internal temperature.
Serve
NUTRITION
Per breast: 274 calories, 42 g protein, 4 g carb, 9 g fat, 2 g fiber.
*TIP It's easy to make this dish for 1, 2, 3 or however many you need! Each breast gets 1 Tbsp each cheddar, cream cheese, and ground flax. EASY! :-)