Ready to Succeed?
Don't "diet", instead, Transform Your Life! We offer meal plans with recipes that taste GREAT! Enjoy your food, live your life, and reach your goals!

Learn More
Healthy Recipes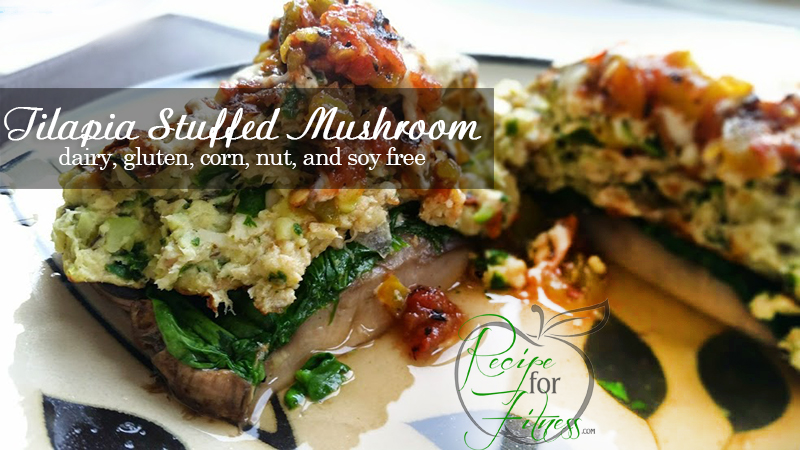 A few weeks ago, I shared with you my recipe for Tilapia Burgers - and they're awesome. But even those can get old when that's all you're eating (competition prep, cutting phase), so I needed a fresh way to enjoy my food. Enter the amazing Portabella Mushroom. A powerhouse of nutrition, and almost no calorie / carb impact. I played around with it and this tasty dish was born. Is it good? Well, I created the recipe yesterday and have already eaten this three times. ;-) Yeah, it's good. Enjoy.
Click on the photo tutorial image to view larger


Tilapia Stuffed Mushroom
By Chelle Stafford
"No fishy smell or flavor! These tilapia stuffed mushrooms are filling, tasty and satisfying! Great for competition diet!"

8 Servings
Prep Time:
Cook Time:
Ready In:
Make the burgers, and store in individual zip top baggies. When it's time to make a stuffed mushroom, you'll be in and out of the kitchen within 5 minutes. Woot!
INGREDIENTS
- 3 lb tilapia (not frozen)
- 3 egg whites
- 1 whole egg
- 1 tsp seasoning* (herbs de provence, or other blend, see note below)
- 1 Poblano pepper, seeded
- 1/2 jalapeño, seeded
- 2 cup fresh spinach
- 1/2 small onion
- 3/4 cup sliced brown mushrooms
- 2 large celery stalks, trimmed
- 1 zucchini, trimmed
- 1/2 cup Bragg Nutritional Yeast
- 8 large Portabello Mushroom Caps
- 2 cups baby spinach
- 1 cup chunky salsa or pico-de-gallo
- 8 Tbsp Daiya Mozzarella Style Shreds
DIRECTIONS

For the Tilapia Burgers...
- Heat large pan of water over high heat, bring to boil.
- Add raw tilapia, keeping all pieces submerged. Boil until just white - about 2-3 minutes.
- Remove tilapia from pan and drain. Allow to cool, then strain out remaining water (you can just put it in a sieve and squish out the water, or use cheesecloth to squeeze it out).
- Chop veggies (zucchini, pepper, onion, sliced mushrooms, garlic and 2 cups spinach) and put in food processor. Blend until finely chopped.
- Place veggies in large mixing bowl.
- Add egg and egg whites, nutritional yeast, seasoning, and mix well.
- Add tilapia, mixing well. Form 8 patties.
- Cook over medium high heat, about 4-6 minutes per side, until golden brown.
For the Stuffed Mushrooms...
- Clean and de-stem a large Portabella Mushroom (1 per serving).
- Place 1/4 cup raw spinach inside mushroom.
- Top spinach with Tilapia Burger.
- Top Burger with 1 Tbsp salsa or pico-de-gallo.
- Top with 1 Tbsp Daiya Mozzarella Shreds.
- Carefully slide into a Ziploc Steamer Bag.
- Seal.
- Microwave on high 2 minutes 30 seconds.
- Allow to rest 1 minute.
- Carefully slide mushroom out of bag and onto plate.
- Top with 1 Tbsp salsa, and serve.
NOTE: If you have room in your diet for more fat, by all means add more Daiya! It's melty, gooey, and yummy!

*Seasoning note... be free-handed with the spices!!! You can change the whole flavor profile as often as you like! Use Herbs de Provence, or Penzey's Mural of Flavor, or Mrs Dash Southwest Chipotle... or whatever you like!
Nutritional Information
Amount Per Serving
Calories: 250 | Total Protein: 40g | Total Carb: 8g | Total Fat: 5g | Fiber: 2g | Sodium: 430mg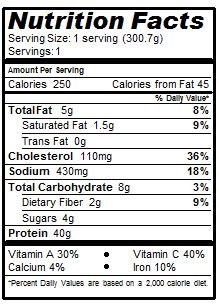 Special Note... CERTAIN PRODUCT LINKS THAT APPEAR ON THIS PAGE COME FROM AMAZON SERVICES LLC. THIS CONTENT IS PROVIDED 'AS IS' AND IS SUBJECT TO CHANGE OR REMOVAL AT ANY TIME. "Recipe for Fitness is a participant in the Amazon Services LLC Associates Program, an affiliate advertising program designed to provide a means for sites to earn advertising fees by advertising and linking to Amazon.com."