Ready to Succeed?
Don't "diet", instead, Transform Your Life! We offer meal plans with recipes that taste GREAT! Enjoy your food, live your life, and reach your goals!

Learn More
Healthy Recipes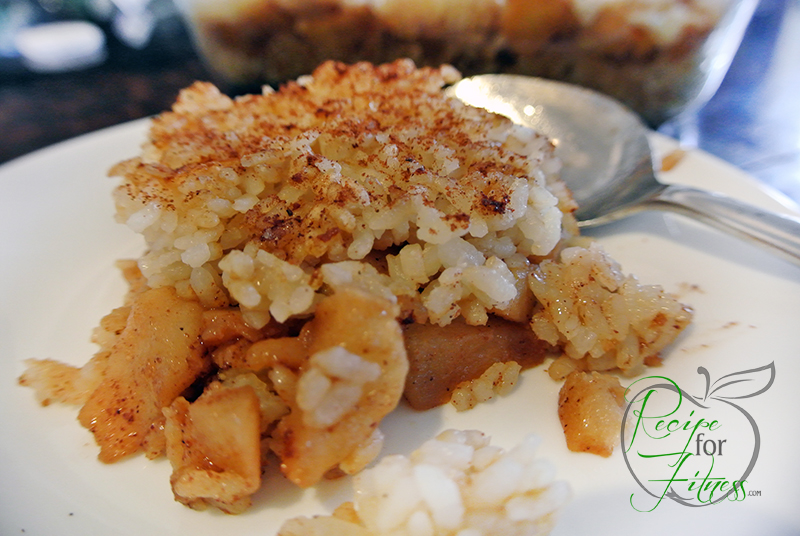 Here's another fun recipe that was inspired by the book Feed Zone Portables. It's ideal for endurance athletes - packed full of the energy/carbohydrates you need to push on. And it can easily be tweaked to fit any other athlete's nutritional needs... here's a couple ideas...
● Increase protein: add vanilla protein powder to your apple mix after cooking
● Decrease carbs: Reduce to a single layer (bottom) of rice, or make layers thinner.

So go ahead... play with your food! ;-)
Easy Apple and Rice Bars

Makes 9 servings

Ingredients
3 granny smith apples
1/2 lemon
2 tsp cinnamon
1/4 tsp nutmeg
2 Tbsp brown sugar + 1 tsp (see note below)
1 Tbsp butter or coconut butter
1 tsp vanilla extract (pure)
2 cups sushi rice
water + 1/2 cup unfiltered apple juice
spray oil
Directions

● Preheat oven to 375
● Prepare rice with water and apple juice (it should be sticky, not loose. Sushi or jasmine rice are best choices - not brown rice as it won't get sticky)
(I prepare mine in a rice cooker on the white-rice setting - rinsing rice first, then adding the juice, then water to correct level.)
● While rice is cooking, peel, core and dice apples.
● In a large sauce pan or pot, melt butter, add apples, 1 tsp fresh lemon juice, brown sugar, cinnamon, vanilla and nutmeg.
● Cook until apples are soft. (if you're adding protein powder, now is the time)
● Spray an 8x8 baking dish with cooking oil.
● Spread half the rice across the bottom, pressing down to create a solid layer.
● Spread apples (and cooking juices) across the rice.
● Top with remaining rice, then sprinkle with a bit of cinnamon & nutmeg (lightly), and 1 tsp brown sugar.
● Cover with foil and bake 15 minutes. Remove foil and bake 5-10 minutes more, until top layer is golden.
● Allow to cool and slice into 12 servings. Wrap each serving and store in refrigerator for easy portable snacks.

*About brown sugar - I use real organic brown sugar. Check the ingredients - if your brown sugar lists sugar and molasses, it's highly processed. Real brown sugar is minimally processed, with it's natural enzymes and molasses intact. It's also a beautiful sparkly color with an almost smoky flavor that allows a very little to go a long way.


Nutrition Information: per serving: 192 calories, 4 grams protein, 44 grams carbs, 1 grams fat, 2 grams fiber, 9 mg sodium.