why infinite extent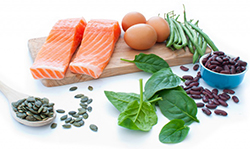 Protein is an essential part of our diets. Whether you get your proteins from plant sources, fish, animal, or any combination, you must eat protein to ensure good health, as well as reach and maintain your fitness goals.
Proteins function as building blocks for bones, muscles, cartilage, skin, and blood. They are also building blocks for enzymes, hormones, and vitamins. See why protein is so important?
Now let's talk about the different types of protein. The carnivore can probably spit off a quick list of protein sources - chicken, beef, pork, turkey, eggs, fish, seafood, yogurt.... The vegetarian (of varying degrees) may add to the mix... soy / edamame, tofu, tempeh, seitan, TVP... The vegan might jump in now with quinoa, legumes (beans & lentils)... and the list goes on and on. Protein is readily available, no matter what your lifestyle, but educating yourself on the options empowers you to have a more well-rounded diet.
Protein supplements are also a great source of this essential macronutrient. Powders are prevalent, and vary widely. Always watch the nutrition labels for fake sugars, sugar, and junky fillers. The catch with powders is that they're often full of other ingredients, which you can't pronounce, but are good for you and help the protein work more efficiently. Vitamin E might show up, but not so you'd recognize it - natural Vitamin E is called d-alpha tocopheryl. Amino acids like L-carnatine, L-glutamine, and others might be listed, and are beneficial. The stuff you want to avoid generally ends in "ose" - like sucralose, and "ame" - like aspartame. These are fake sugars that might make the product more palatable, but can do damage to your metabolism. It's worth spending some time researching ingredients to discover what they really are, and if you can live with them in your supplement or not.
So how much protein, and what kind, should you be incorporating into your healthy eating? Number one is that your proteins should be as close to nature as possible. Fresh is best. When you're talking about meat products, organic and grass-fed are the top picks, though they're also the most pricey.
I've listed a just a few varieties of proteins below, but the "how much" largely depends on your lifestyle and your goals. There is no one-size-fits-all when it comes to macronutrient ratios (how many of your daily calories come from each macronutrient - protein, carbohydrate, and fat), but a good place to start for most of us is to simply include a serving of (lean- if you're a meat-eater) protein at each meal and snack. Learn about caloric needs here.
Healthy Proteins
Animal / Fish / Egg

Serving Size

Poultry - chicken, turkey

4-6 oz

Pork (lean)

4-6 oz
Beef (lean)
4-6 oz
Fish / Seafood
4-6 oz
Egg White
3-4
Egg Whole (it takes the yolk to make an egg a powerhouse protein)
1

Dairy

Cottage Cheese
1 cup
Greek Yogurt
1 cup
Cheese
1 oz

Plant

Tofu (not my first choice - pick Tempeh or Seitan for quality protein)
4 oz
Tempeh
4 oz
Seitan
4 oz
Legumes
1 cup

Beans

1 cup

Quinoa

1 cup
Spinach
1 cup

Why is there a range on some serving sizes?
Serving size depends on individual caloric needs. A person consuming 1600 calories/day will have a smaller portion/serving size than another person who consumes 2,200 calories/day.
Downloads and Custom Plans. Recipe For Fitness, offers a variety of nutrition plans as downloads, just choose the caloric-goal that's right for you. If you want a custom nutritional plan, designed for you and that will adjust with your progress, contact us.