Ready to Succeed?
Don't "diet", instead, Transform Your Life! We offer meal plans with recipes that taste GREAT! Enjoy your food, live your life, and reach your goals!
Learn More
why infinite extent
FATS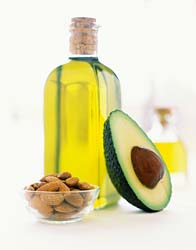 Many of us were raised on the premise that fat is bad. Even evil. To be avoided at all costs. Not only is this an untruth, it's unhealthy! Fat is a crucial and essential part of a healthy lifestyle. Unfortunately, folks often make the mistake of equating dietary fat with body fat. Our bodies require fat for a variety of reasons; from the processing of vitamins (Vitamin A, D, E and K), to the quality of our skin, hair, and nails, and so much more. Additionally, fat is the go-to energy source when our bodies run out of carbohydrates. Now the phrase "fat-burning" make sense, right?
There are several different kinds of fats. I'm sure you're familiar with the terms mono-unsaturated, poly-unsaturated, saturated, and trans-fats. There's a ton of great info available on these, so I won't spend much time on them other than to point out that saturated fats are nothing to be afraid of. More and more studies are released each year showing that saturated fats have been erroneously vilified. A moderate amount of saturated fats is HEALTHY! What are saturated fats? A few examples are butter, coconut oil, red meat, and full-fat dairy.
So how much fat, and what kinds, should you be incorporating into your healthy eating? I've listed a variety of healthy fats below, but the "how much" largely depends on your lifestyle and your goals. There is no one-size-fits-all when it comes to macronutrient ratios (how many of your daily calories come from each macronutrient - protein, carbohydrate, and fat), but a good place to start for most of us is to simply include a serving of healthy fat at each meal and snack. Learn about caloric needs here.
Healthy Fats
Food Sources

Serving Size

Olive Oil, Coconut Oil, Sesame Oil, Grapeseed Oil, Pumpkin Oil, etc.

1 Tbsp

Avocado

1/4 fruit

Dairy: Butter

1 Tbsp
Dairy: Cheese
1 oz
Dairy: Milk
1 cup
Dairy: Cottage Cheese
1/2 - 1 cup
Dairy: Yogurt / Skyr
1/2 - 1 cup

Meat: Beef, Bison

4-6 oz

Fish / Seafood

4-6 oz

Nuts / Seeds / Nut Butter / Seed Butter

1 oz

Coconut Butter (this is not oil, this is the ground up flesh of the coconut which includes oil)

1 Tbsp

Why is there a range on some serving sizes?
Serving size depends on individual caloric needs. A person consuming 1600 calories/day will have a smaller portion/serving size than another person who consumes 2,200 calories/day.

Supplementation

consult your physician for appropriate dosage on any over the counter supplements.

EFA (essential fatty acid) blends

Vitamin E

Fish Oil

Flax Oil
Downloads and Custom Plans. Recipe For Fitness, offers a variety of nutrition plans as downloads, just choose the caloric-goal that's right for you. If you want a custom nutritional plan, designed for you and that will adjust with your progress, contact us.