Ready to Succeed?
Don't "diet", instead, Transform Your Life! We offer meal plans with recipes that taste GREAT! Enjoy your food, live your life, and reach your goals!

Learn More
Healthy Recipes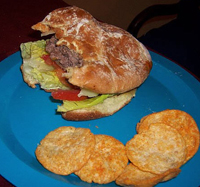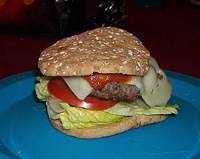 This recipe is from Devin Alexander's, I Can't Believe It's Not Fattening, but cleaned up a bit :-)
The nutritional info is for the recipe as it appears in the book (pg 48).

Bacon

Cheeseburger

Makes 1 - multiply recipe for required number of servings

Ingredients:
● 4-ounces 96% lean ground beef (I used bison)
● 1/2 ounce slice Swiss Cheese
● 1 1/2 Tbsp bacon pieces (she used Hormel 50% reduced fat... I used Welshire brand... clean!)
● 1 tsp dried minced onion
● Sea-Salt to taste (she called for table salt, I only use sea-salt)
● 1 small leaf green lettuce
● 3 (1/4" thick) slices Roma (plum) tomato
● 1 Tbsp ketchup or BBQ Sauce (I used Robbie's)
● 1 (about 3 1/2" diameter) whole wheat or whole grain hamburger bun (I used Earthgrain thin bun, Bill used a Potato bun)

Directions:
● Preheat grill to high (I used my Foreman grill).

● In a small bowl, mix the beef, bacon and onion until well combined.
● Shape the beef into a patty about 1/2 larger in diameter than the bun.
● Lightly sprinkle both sides of the patty with sea-salt.
● Grill burger 1-2 minutes per side for med-rare, or until desired doneness is reached. (don't smash the burger with a spatula).
● Just before the burger is done, place the bun halves, insides face down, on a top grill rack or away from open flame to toast them.
● Add the cheese atop the patty to melt (15-30 seconds).

● Place the toasted bun bottom on a plate.
● Add the burger patty, the lettuce, and the tomato slices.
● Spread the ketchup or barbecue sauce over the inside of the bun top and flip it atop the burger.
● Serve immediately.
Nutrition Information:
Each sandwich (per recipe) has about 351 calories; 36 g protein; 29 g carbs; 11 g fat; 80 mg cholesterol; 4 g fiber, 745 mg sodium. These numbers will change depending on the bun you use, your choice of ketchup or bbq sauce, etc. My bacon bits were lower in sodium, as was my bbq sauce. (see my nutritional data below)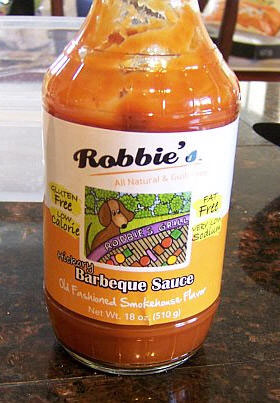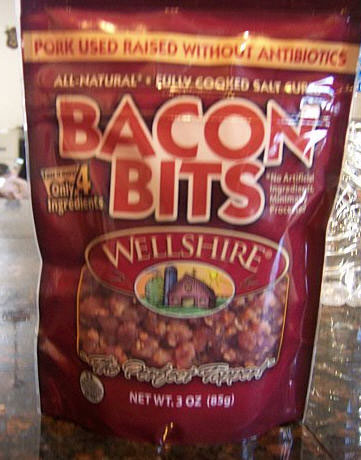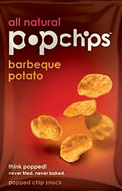 Here's the nutritional data for just the burger, no bun: