Ready to Succeed?
Don't "diet", instead, Transform Your Life! We offer meal plans with recipes that taste GREAT! Enjoy your food, live your life, and reach your goals!

Learn More
Healthy Recipes
This recipe is from Devin Alexander's,
I Can't Believe It's Not Fattening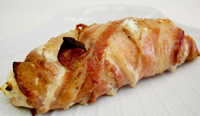 NOTE: I'm no chef, and I've never done anything bacon wrapped, so I was unprepared for the trauma, lol! Next time (because this recipe is now Husband-Approved, there WILL be a next time) I will use a thinner sliced bacon (still from Whole Foods meat department, as it's lean and clean), and toothpicks to hold the slippery little strips in place.

Bacon Wrapped Tilapia

Makes 2 servings

Ingredients:
● Olive oil spray
● 2 (about 4 ounces each) or 4 (about 2 ounces each) tilapia filets
● Sea salt and pepper, to taste
● Garlic powder, to taste
● 4 slices center-cut bacon (gluten free)

Directions:
● Preheat the broiler.
● Line a small baking sheet with nonstick aluminum foil.
● Lightly mist the foil with spray.

● If using 2-ounce filets, stack them in pairs, smooth sides together, creating 2 (4-ounce) "filets."
● Season both sides of each filet with garlic powder, salt and pepper.
● Starting at the narrower end of one of the filets (or filet couplings), wrap two of the bacon strips around the tilapia so they cover as much surface area of the fish as possible.
● Repeat with the remaining filet (or filet coupling) and bacon.

● Broil until the bacon is cooked and the fish flakes easily, 5 to 6 minutes per side. ● ● Serve immediately.
Nutrition Information:
133 calories
25 g protein
0 g carbohydrates
6 g fat (3 g saturated)
70 mg cholesterol
0 g fiber
306 mg sodium