Ready to Succeed?
Don't "diet", instead, Transform Your Life! We offer meal plans with recipes that taste GREAT! Enjoy your food, live your life, and reach your goals!

Learn More
Healthy Recipes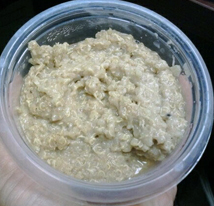 During my competition prep, I craved rice pudding. I don't know why, I hadn't eaten it in years, but I desperately craved the creamy-sweetness. But on a Figure Competition diet, that's a little difficult to come by. Well I pulled it off with this one! A little playing around in the kitchen and I had a quinoa pudding/porridge that even the family loved! Nice! :-)

Quinoa Pudding /

Porridge

Makes 5 servings
Ingredients
2.5 cups cooked quinoa
2 cups vanilla unsweetened almond milk
1-2 Tbsp ground cinnamon (to taste)
1/4 tsp sea-salt
2 scoops vanilla protein powder (I use Champion Nutrition Pure Whey Vanilla)


Directions

Cook Quinoa. Once cooked, add the almond milk, sea salt, cinnamon and stir.
Once incorporated, sprinkle in the protein powder, a little at a time, adding more almond milk as needed. Once the consistency and flavor you want is achieved, allow to cool slightly then separate it into 5 small containers.


Nutrition Information: Makes 4 servings. Per serving: 185 calories, 13g protein, 23g carbs, 4g fat.