Grilled Pineapple with Cheesecake Filling
Quick and easy, this grilled pineapple recipe is healthy, delicious, and gorgeous!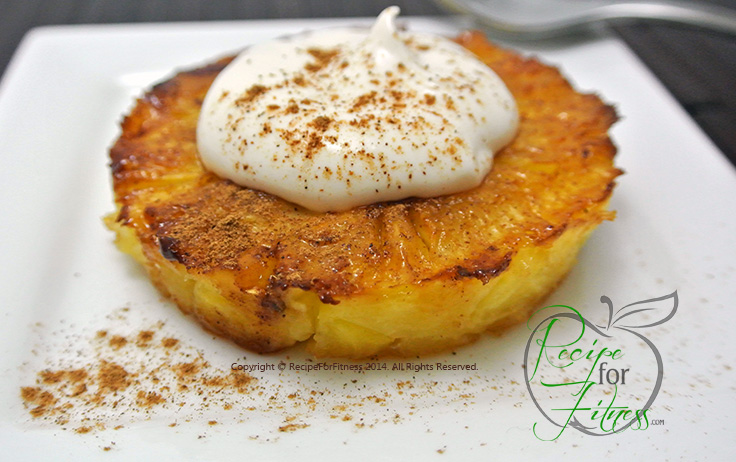 Preparation Time: 10 minutes Total time: 10 minutes
By Chelle Stafford, August 21, 2012
Serves 4

Ingredients:
4 pineapple rings, fresh if possible,
1 tsp coconut sugar (if you can't find this, palm sugar or a brown-splenda blend will work) ,
1/2 tsp pumpkin pie spice,
4 Tbsp cream cheese ,
4 Tbsp plain greek yogurt,
1 tsp vanilla extract,
1 tsp Truvia-Sugar Baking Blend (can sub 1-2 packets of stevia),

Instructions:
Preheat grill to medium-high (I used my Foreman Grill)
Sprinkle coconut sugar over the tops of the pineapple rings. Dust lightly with pumpkin pie spice.
In small bowl, blend cream cheese, greek yogurt, vanilla, and Truvia-Sugar until smooth.
Spray grill with cooking oil (I prefer coconut oil)
Grill pineapple 2-3 minutes.
Plate pineapple, then divide the cheesecake cream between the 4 rings.
Sprinkle lightly with pumpkin pie spice.
Serve.