Ready to Succeed?
Don't "diet", instead, Transform Your Life! We offer meal plans with recipes that taste GREAT! Enjoy your food, live your life, and reach your goals!

Learn More
Healthy Recipes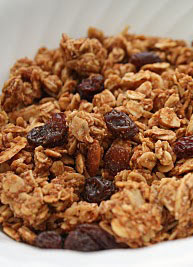 My family begs for this! It's amazingly easy, and unbelievably tasty! If you were a member of the toscareno.proboards.com forum, you'll remember Traweaver. This is her incredible recipe for granola. My family absolutely loves this! My husband eats it as cereal, everyone snacks on it, and my favorite is to add it to my plain greek yogurt - little bit 'o heaven there! :-)
Tracey's Amazing Raisin Almond Granola

Recipe Makes 35 servings


INGREDIENTS:
3 cup rolled oats
1/3 cup oat bran + 2 scoops Van. PP)
1/4 cup ground flax seed
1/4 cup wheat germ
1 cup whole raw almonds
1/2 tsp sea salt
1/2 cup honey
1/4 cup maple syrup
1 tsp vanilla
2 T coconut oil
1/4 cup water
3/4 cup raisins

DIRECTIONS
Preheat oven to 300. In bowl whisk the oats, oat bran, flax, wheat germ, almonds and sea salt. In saucepan bring the honey, maple syrup, vanilla, oil, and water just to a bubble over low heat. Pour the honey mixture over the oats and mix until oats are evenly moistened. Spread the oats onto ungreased, rimmed baking sheet. Bake at 300 for 20 minutes stirring twice. Cool completely and then add the raisins. Stir again and store in a sealed container. Can be frozen as well.


NUTRITIONAL INFO
Per 2 tablespoons - Recipe makes 35 servings
(Note: the protein powder you use will change your nutritional data, so if you're tracking closely, you can use nutritiondata.com to plug in the recipe with your own protein powder to have accurate numbers).

Cals: 104
Fat: 4g
Carb: 15g
Sugars: 8g
Fiber: 2g
Protein: 4g

TIPS
Tabitha turned me on to adding dried cherries (half raisins, half cherries) and man-oh-man is it yummy!