Ready to Succeed?
Don't "diet", instead, Transform Your Life! We offer meal plans with recipes that taste GREAT! Enjoy your food, live your life, and reach your goals!

Learn More
Healthy Recipes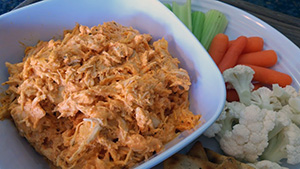 My daughter turned me on to this easy snack recipe... I love how simple it is to make, and the flavors explode! If you don't enjoy the heat, just reduce the hot sauce. Additionally, to switch it up, try swapping out the ranch for blue cheese! Yummo! Look for ranch (or blue cheese) that is clean - no chemicals or fillers. I recommend either Newman's Own or Marie's brands. You can also cook the chicken in a crockpot ahead of time.


Buffalo Chicken Dip
Quick and easy snack that's perfect for the big game!

Preparation Time: 5 minutes Cook time: 15 minutes Total time: 20 minutes
By Shiloh Giannini, January 19, 2015
Serves 12
Ingredients:
1 lb chicken breast, boneless,
1 package (8 oz) cream cheese,
1/2 cup Frank's Red Hot Buffalo Sauce,
1/2 cup ranch dressing,
1/2 cup finely shredded cheddar cheese,


Instructions:
Preheat oven to 350 degrees.
Line a baking sheet with foil and spray with cooking oil (I use olive oil).
Place chicken breasts on cookie sheet and drizzle Frank's Red Hot Sauce over tops.
Bake until cooked through (no longer pink in the center), about 15 minutes.
Remove chicken from sheet to a medium bowl, using two forks, shred chicken.
Add 1 package cream cheese, 1/2 cup Frank's, 1/2 cup ranch dressing*, and mix until well combined.
Serve with pita chips, raw veggies, or tortilla chips.


Nutrition facts per serving:
179 calories
|
10 grams protein
|
3 grams carbs
|
14 grams fat
|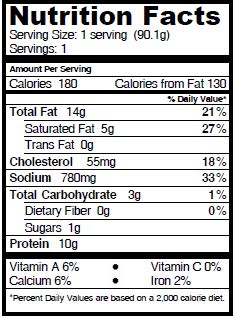 You might also be interested in our other Snack recipes.