Artichoke Nachos
Quick and easy gluten free snack that's fun, pretty, and filling!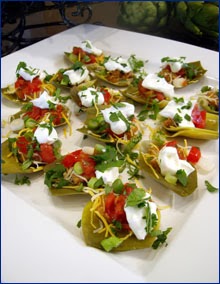 Preparation Time: 10 minutes Total time: 10 minutes
By Chelle Stafford, January 30, 2014
Serves 8
Ingredients:
2 large artichokes,
1/2 lb ground chicken breast,
1/2 tsp Mrs Dash Southwest Chipotle,
1/2 cup black refried beans, lower sodium,
1 cup cherry tomatoes, chopped,
1/2 cup green onion, chopped,
1/2 cup salsa, all natural,
1/2 cup cilantro, chopped,
1 cup plain greek yogurt.

Instructions:
Preheat oven to Broil.
Boil or steam artichokes. They're done when a fork easily pierces the stem, and leaves open readily. (I use Ziploc steamer bags, 1 artichoke per bag, and microwave for 5 minutes each.)
While artichokes cook, brown the ground chicken with Mrs Dash Southwest Chipotle (or any other flavor). As meat cooks, continue to break up pieces until they're all crumbled.
Place cooked cooled Artichoke leaves in a single layer on a large platter. Place 1/4 teaspoon of warm refried beans on each leaf. Top with ground chicken. Add a small dollop of greek yogurt to each leaf, then sprinkle with grated cheese, tomatoes, green onions, salsa, and cilantro.

EASY ALTERNATIVE PREP -
Cook artichokes and set aside to cool. Once chicken is cooked, mix all other ingredients together in a large bowl. Remove leaves from cooled artichoke, placing on a large platter. Divide chicken mixture among the artichoke leaves. (Does it get any easier??)

Nutrition facts per serving:
142 calories
|
14 grams protein
|
10 grams carbs (net 6g carbs)
|
5 grams fat
|
4 grams fiber
.
238 mg sodium
.