Ready to Succeed?
Don't "diet", instead, Transform Your Life! We offer meal plans with recipes that taste GREAT! Enjoy your food, live your life, and reach your goals!

Learn More
Healthy Recipes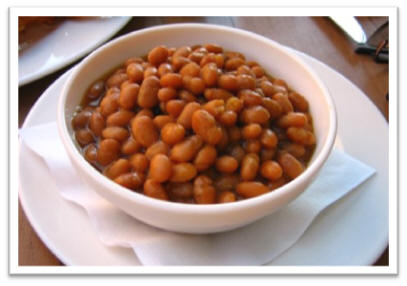 The Slow Cooker, or CrockPot is one of my passions... as of this writing, I have 7 crockpots in my kitchen... and I use them. All of them. There is so much you can do in these wondrous machines! ;-) They're a huge part of my One Day Food Prep, too!
This is from Eat Clean Cookbook by Tosca Reno.
The original recipe called for yellow-eye beans which are non-existent in my area. I used great northern beans and the dish turned out wonderfully.


Chelle's Slow Cooker Maple Beans

Eat Clean Cookbook by Tosca Reno

INGREDIENTS:

2 cups dry Great Northern Beans
1 medium onion, chopped.
2 Tbsp extra virgin olive oil
1 tsp dried mustard
½ tsp ground ginger
1 tsp sea salt
1 tsp dried thyme
½ cup molasses
1 cup pure maple syrup


DIRECTIONS:

Soak beans overnight in plenty of water.

The next day, discard the water and rinse beans. Add fresh water. Bring to a boil.
Continue to boil until tender (about an hour). The skins will begin to curl up when they're done.

Drain beans, reserving 2 cups of the cooking liquid.

Place half the beans in the crockpot. Sprinkle half the onion over the beans.
Drizzle half the olive oil over the top. Repeat with remaining beans, onion and olive oil.

Mix 1 cup of the cooking liquid with maple syrup and add to beans.

Put mustard, ginger, salt, thyme and molasses in a small bowl.
Add remaining 1 cup of cooking liquid and mix well with a wire whisk.
Pour this mixture over the top of the beans. They should be just covered with the liquid.

Cook, covered for several hours. Remove the lid and cook for 30 minutes more. Serve hot.