Ready to Succeed?
Don't "diet", instead, Transform Your Life! We offer meal plans with recipes that taste GREAT! Enjoy your food, live your life, and reach your goals!

Learn More
Healthy Recipes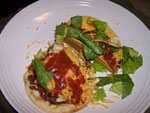 The Slow Cooker, or CrockPot is one of my passions... as of this writing, I have 7 crockpots in my kitchen... and I use them. All of them. There is so much you can do in these wondrous machines! ;-) They're a huge part of my One Day Food Prep, too!
Chelle's Slow Cooker Chicken Tostadas

METHOD 1:

INGREDIENTS:

1 30oz Jar any green chili salsa of choice (check labels, keep it clean! gluten free)
4 - 6 Chicken Breasts (frozen)
8 Corn Tortillas
2 Cups Shredded Iceberg Lettuce & 2 Cups Shredded Cabbage (raw) combined
Chopped onion, tomato, etc as desired
Shredded Cheddar Cheese
(I use Athenos feta cheese -which I LOVE! - instead of cheddar, Bill and the kids use cheddar)

DIRECTIONS:

Place Chicken Breasts in crock pot. Add jar of Chili Verde Starter (or green chili sauce/salsa). Cook on High for 4 hours, then low for 2 - 4 more hours. Do not drain. Shred chicken with two forks and return to the "juice".
Bake corn tortillas on cookie sheet (350 degrees) until crispy (but not burnt).

Layer: corn tortilla, lettuce/cabbage, shredded chicken. Top with onion, tomato, cheese or whatnot. For more fiber, you can add a tablespoon of Rosarita No-Fat Refried Black Beans, or similar.


METHOD 2:

In my Sunday food prep, I crockpot a bunch of chicken breasts in low-sodium broth, then shred the chicken, drain the broth, and add a jar of green chili salsa. This is then stored in the fridge for use in wraps, tostadas, tacos, salads or whatever. Sometimes I simply shred the chicken then store it in the "crockpot juice" for use as needed. In this case, I simply drain the "juice", then add the salsa and microwave it to heat it through. Voila! Dinner is ready!