Ready to Succeed?
Don't "diet", instead, Transform Your Life! We offer meal plans with recipes that taste GREAT! Enjoy your food, live your life, and reach your goals!

Learn More
Healthy Recipes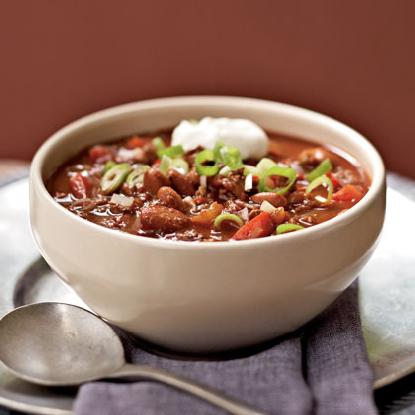 The Slow Cooker, or CrockPot is one of my passions... as of this writing, I have 7 crockpots in my kitchen... and I use them. All of them. There is so much you can do in these wondrous machines! ;-) They're a huge part of my One Day Food Prep, too!
Chili is a favorite in my house. I've made this recipe with bison, beef, chicken and even turkey. It's awesome no matter what the meat!

Chelle's Slow Cooker Buffalo Chili

Makes 11 cups of chili.


INGREDIENTS:

2 lb's ground beef or bison
3 Cans various beans - drain & rinse well. (I use pinto, black, kidney, & chili or cannelini beans)
2 large cans Crushed Tomatoes (Fire Roasted) - Do not drain
1 Can (14.5 oz) Fire Roasted with Chipotle, diced tomatoes - Do not drain
2 tsp dehydrated onion or finely chopped shallot
1-2 Tbsp Mrs Dash Southwest Chipotle
1-2 Tbsp Mrs Dash Fiesta Lime (and if you want it hotter, you can use Mrs Dash Spicy)


DIRECTIONS:

Brown the meat with the seasoning, drain (if there's a lot of grease, run hot water over the meat in a sieve/colander to really reduce the fat).
Drain all the beans & rinse well (this will drastically reduce the sodium)
Put beans & meat in crockpot, add the 2 large cans of crushed tomatoes (don't drain), onion/shallot, spices and stir. Cook on Low for 4-6 hours, or High for 2 hours.

TIPS: I don't add any extra liquid, and it's really saucy. The leftovers are great, too! Toss on pasta, or a salad, or spaghetti squash, or potato, or in a tortilla... lol, very versatile! :-) Top with plain greek yogurt or cottage cheese, a little shredded cheddar, onion, cilantro... Enjoy!

Nutritional Information (this is for the recipe made with Beef):
Recipe makes 11 cups of chili. 1 cup serving = 332 calories; 33.8 g carbs; 9.4 g fiber; 35 g protein; 643 mg sodium; 8.3 g sugar; 5.1 g fat.