Ready to Succeed?
Don't "diet", instead, Transform Your Life! We offer meal plans with recipes that taste GREAT! Enjoy your food, live your life, and reach your goals!

Learn More
Healthy Recipes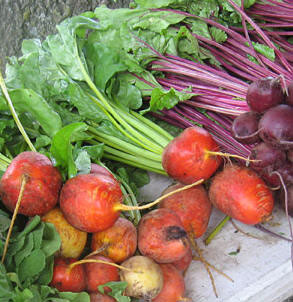 The Slow Cooker, or CrockPot is one of my passions... as of this writing, I have 7 crockpots in my kitchen... and I use them. All of them. There is so much you can do in these wondrous machines! ;-) They're a huge part of my One Day Food Prep, too!
Chelle's Slow Cooker Beets


INGREDIENTS:

1 - 2 cup fresh beets (I mix golden & red, or whatever my supermarket has)
1-2 tblsp olive oil
Pepper & Sea Salt (to taste)
1 cup broth


DIRECTIONS:

Wash beets. Place a large piece of parchment paper on the counter. Add broth to crockpot. Put beets in center of parchment, drizzle with olive oil and sprinkle on pepper & sea salt. Bringing the sides of the paper together, twist the top and place the bundle in the crockpot (no, the paper won't dissolve in the broth - no worries).

Cook on high for 4-5 hours or until the beets are tender and easily pierced. Allow to cool, then with a sharp knife, peel the skins off the beets (they should literally peel right off, like a boiled potato). Either serve, or place in containers for later meals.