Ready to Succeed?
Don't "diet", instead, Transform Your Life! We offer meal plans with recipes that taste GREAT! Enjoy your food, live your life, and reach your goals!

Learn More
Healthy Recipes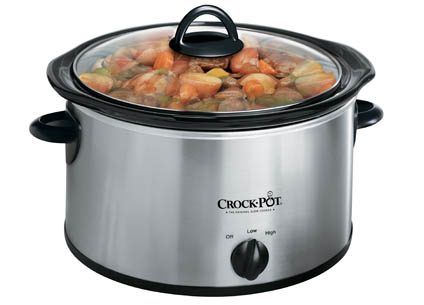 The Slow Cooker, or CrockPot is one of my passions... as of this writing, I have 7 crockpots in my kitchen... and I use them. All of them. There is so much you can do in these wondrous machines! ;-) They're a huge part of my One Day Food Prep, too!

Chelle's Slow Cooker

Beef Stew


INGREDIENTS:

2-3 cups of beef low-sodium broth (more if you want it more soupy)
2 lbs chopped stew meat
3 carrots, peeled and sliced
2 large potatoes (or sweet potatoes), cut into bite-size chunks
1 onion, quartered (or diced if your family likes onion - my hubby doesn't so I leave the onion in large pieces easily removed from his bowl, lol)
1 container of mushrooms, sliced (I like crimini, but you can use whatever you prefer)
1 tsp Garlic powder
1/2 tsp Black Pepper
1 tbsp Thyme
Sea-Salt to taste


DIRECTIONS:

Place all ingredients in crockpot, stir, cook on low for 6-8 hrs or until meat and veggies are very tender.
Optional - Add pasta (I use egg noodles). Just prepare the pasta as normal, then spoon stew over the noodles in bowls.

Variations: One of my favorite variations is to add a can (15oz) of stewed or diced tomatoes. You can also add more veggies: beans, peas, peppers, okra, broccoli, cauliflower... ! Add barley, oats, quinoa, wild or brown rice! :-) Personally, I like my stew to be heavy on the protein, so I always increase the meat.