Ready to Succeed?
Don't "diet", instead, Transform Your Life! We offer meal plans with recipes that taste GREAT! Enjoy your food, live your life, and reach your goals!

Learn More
Healthy Recipes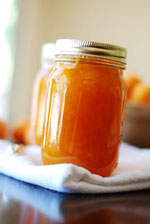 The Slow Cooker, or CrockPot is one of my passions... as of this writing, I have 7 crockpots in my kitchen... and I use them. All of them. There is so much you can do in these wondrous machines! ;-) They're a huge part of my One Day Food Prep, too!
The book The Gourmet Slow Cooker, Volume II by Lynn Alley offers this recipe, and it's fabulous! On a clean eating addenda, I used organic, unsweetened apricots... these are (to my surprise, lol) brown, as there are no sulfites to maintain the color, so my preserves are also brown instead of that lovely orange, but the taste is incredible. These are worth making!

The Recipe... Pg. 70

Slow Cooker Jam

Makes about 1 cup

INGREDIENTS:

8 ounces dried apricots
2 cups freshly squeezed orange juice
About 1 Tbsp grated orange zest


DIRECTIONS:

Combine the apricots, juice and zest in a 2 1/2 or 3-quart slow cooker. Cover and cook on low for about 4 hours, until thick and spoonable. Preserves will thicken as they cool, but if they need to thicken further, remove the lid, increase the heat to high, and cook for another hour. Refrigerate and use within one week.