Ready to Succeed?
Don't "diet", instead, Transform Your Life! We offer meal plans with recipes that taste GREAT! Enjoy your food, live your life, and reach your goals!

Learn More
Healthy, Clean Eating Recipes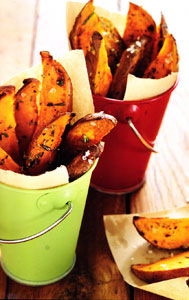 From the first time I made these fries, they were a family favorite... Years later, they're still a staple in my kitchen, and I get many requests for them! Packed full of flavor, along with nutrients, these are my go-to potato dish! I prepare them during my one-day food prep, then toss the bag in the fridge until we're ready to make them! Easy!


Sweet Potato Fries
Recipe from The Eat-Clean Diet for Family and Kids: Simple Strategies for Lasting Health and Fitness by Tosca Reno (pg 272)
makes 4 servings

Ingredients:
2 large size sweet potatoes, skin on, well scrubbed (I use one yam and one sweet potato, so my fries were orange and white)
1.25 Tbsp Olive oil
4 cloves garlic, passed through a garlic press
1/2 tsp sea salt
Freshly ground black pepper
1 Tbsp dried oregano, crumbled
1 Tbsp fresh rosemary, chopped


Directions:
Preheat oven to 450F/232C. Cut the potatoes into finger-like wedges. Place them in a bowl and toss with the rest of the ingredients.

Line a cookie sheet with parchment paper. Place the sweet potato wedges on the sheet so the pieces remain separate from each other.

Bake for 30 minutes or until wedges develop a golden color.
Nutrition Info: Makes 4 servings. Per serving: 123 cal, 1 gram protein, 15 g carbs, 7 grams fat, 154 mg sodium, 2 g fiber