Ready to Succeed?
Don't "diet", instead, Transform Your Life! We offer meal plans with recipes that taste GREAT! Enjoy your food, live your life, and reach your goals!

Learn More
Healthy, Clean Eating Recipes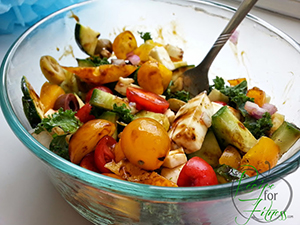 Fast and flavorful, this is an easy side dish to serve alongside a healthy entree or even by itself!
I had a fridge full of fresh produce, and company on the way... I wanted to serve something more than one of my typical kitchen sink salads, so I started pulling items out and chopping. This was the result, and it's FABULOUS! Chop this one up and taste Summer!
Additionally... for those on competition diet, there is a category of food we tend to worship. Free Foods. ;-) Depending on the diet you're on, the veggies in this salad are typically considered free foods. As such, this recipe is a great way to stave off the vicious

hunger that often marks certain phases of competition.
Easy Summer Salad

Makes 2 serving (or 1 very satisfying bowl, lol)

Ingredients:

1/4 cup sliced cucumber, skin on, then cut into fourths
1/4 cup sliced (raw) zucchini, skin on, then cut into fourths
1 slice of red onion (raw), diced
5 olives (I use green & kalamata), sliced
1 clove garlic, roasted or raw, minced
6 cherry tomatoes, red, sliced in half
6 cherry tomatoes, yellow, sliced in half
1/4 cup diced yellow bell pepper
1/2 cup chopped kale (or substitute fresh basil, reduce to 1/4 cup)
pinch sea-salt
pinch ground pepper
drizzle of balsamic vinegar or balsamic glaze
1 oz diced mozzarella, full fat

Directions:
Wash and chop all veggies and the cheese.
Add to bowl and sprinkle with sea-salt and pepper.
Drizzle with vinegar or glaze.
Serve.
Nutrition: 118 calories, 5 grams protein, 12 grams carbs, 6 grams fat, 2 grams fiber. 10 grams net carbs.