Ready to Succeed?
Don't "diet", instead, Transform Your Life! We offer meal plans with recipes that taste GREAT! Enjoy your food, live your life, and reach your goals!

Learn More
Healthy, Clean Eating Recipes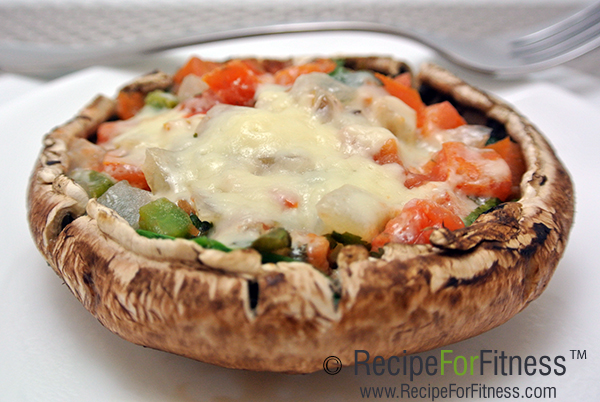 Fast and flavorful, this is an easy side dish to serve alongside a healthy entree or even by itself!
Portabello Mushrooms are a tasty Super Food. Packed full of phytonutrients that boost immunity, reduce inflammation, and are a significant source of CLA (conjugated linolenic acid). These 'shrooms should be pictured wearing a cape!
Additionally... for those on competition diet, there is a category of food we tend to worship. Free Foods. ;-) Depending on the diet you're on, Mushrooms are typically considered a free food. As such, this recipe is a great way to stave off the vicious hunger that often marks certain phases of competition.
Stuffed Portabello Mushroom

Makes 1 serving

Ingredients:

1 large portabello mushroom cap
1/2 cup baby spinach leaves, raw
2 Tbsp pico de gallo (diced tomato, onion, jalepeno)
1 Tbsp feta
1 Ziploc Steamer Bag

Directions:

Remove stem from mushroom cap. With a spoon, scrape out the black gills.
Stuff the spinach into the mushroom. Top with pico-de-gallo, then feta.
Place stuffed mushroom in steamer bag, and microwave for 1 1/2 minutes. Allow to rest for 1 minute, then slide out onto a plate and serve.

Nutrition: 67 calories, 6 grams protein, 8 grams carbs, 2 grams fat, 1 grams fiber. 7 grams net carbs.