Ready to Succeed?
Don't "diet", instead, Transform Your Life! We offer meal plans with recipes that taste GREAT! Enjoy your food, live your life, and reach your goals!

Learn More
Healthy, Clean Eating Recipes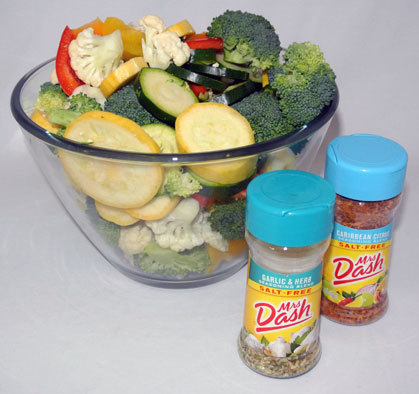 I love my Ziploc Steamer Bags! They're a big part of my Sunday Food Prep, and make my life sooo much easier! It's a snap to whip up a serving (or 4, or more!) of fresh veggies. The recipe below makes about 8-10 bags (single servings). I toss one in my cooler each morning, and use however many I need for family dinners at night. To make things easier, I use a 13x9 plastic container - line all the bags up in it and place it in the fridge. It takes up less space and helps keep me organized.

Easy Steamed

Mixed Veggies


Ingredients

2 crowns broccoli
1 head cauliflower (any color)
3 colored peppers
2 zucchini
1 yellow squash
OR... any variety of veggies you like (non-starchy)
Mrs Dash Garlic & Herb
Steamer bags (Ziploc is the brand I use)


Directions

Clean veggies & chop. Place 2 cups in each steamer bag. Sprinkle desired amount of Mrs Dash - I typically do 2 good shakes per bag. Seal the bag and refrigerate

When you're ready to enjoy, microwave on high for 3 minutes. Allow to rest for one minute (don't open the bag), then dump onto a plate or into a bowl! It's that easy!

Note: My veggie steamer bags last easily 1 week in the fridge, sometimes longer, though we usually go through them before the week is up ;-)