Ready to Succeed?
Don't "diet", instead, Transform Your Life! We offer meal plans with recipes that taste GREAT! Enjoy your food, live your life, and reach your goals!

Learn More
Healthy, Clean Eating Recipes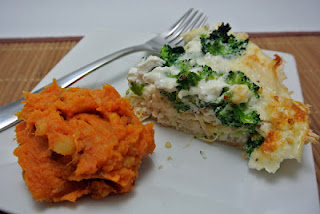 This is based on a recipe by Devin Alexander, but I tweaked it and cleaned it up... It's sweet and spicy, but won't derail your dietary goals. You can whip these up in your One-Day-Food-Prep, then enjoy them all week long! No room in the diet for maple syrup? Just omit it! You'll still have a seriously tasty & spicy sweet potato mash that hits the spot!


Spicy and

Sweet-Potatoes


Makes 8 servings

Ingredients
1 large sweet potato (white skin, white flesh)
1 large yam (orange skin, orange flesh)
1 Tbsp unsalted butter
1-2 Tbsp diced chipotle peppers in adobo sauce
2 Tbsp pure maple syrup

Directions
Wash potatoes then pierce all over. Microwave 3 1/2 minutes, then roll them over and cook another 3 minutes. Continue cooking as needed, until a knife inserted goes in easily.
Allow to cool, then peel off skins. Mash potatoes together, then add butter, chipotle peppers, and maple syrup. Mix well.
Serve.

Nutrition
77 calories, 1 g protein, 15 g carb, 2 g fat.