Ready to Succeed?
Don't "diet", instead, Transform Your Life! We offer meal plans with recipes that taste GREAT! Enjoy your food, live your life, and reach your goals!

Learn More
Healthy, Clean Eating Recipes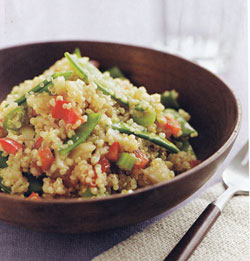 This is hands down my favorite Quinoa Recipe. Consumer Reports Food & Fitness Magazine had a recipe for Asian-Style Quinoa Salad with Chili-Orange Dressing. I made it and fell in love! Enjoy it hot, cold, or however you like! Oh so yummy!
Quinoa Salad

with Chili-Orange Dressing

makes 6 servings

Ingredients:
Chili-Orange Dressing:
1 tsp finely grated orange zest
1cup freshly squeezed orange juice
1 tblsp reduced-sodium soy sauce (gluten free)
1 tblsp honey
2 tsp sesame oil
1/2 tsp Asian chili sauce or pinch red pepper flakes
Freshly ground black pepper

Quinoa Salad
1 cup uncooked quinoa, rinsed thoroughly
1 (8 oz) can water chestnuts, sliced, drained
1 red bell pepper, seeded & chopped
1 1/2 cups chopped snow peas, cooked until tender, then cooled.
4 green onions, white & light green parts, thinly sliced


Directions:
1. Make the dressing: In a small bowl, whisk together orange zest & juice, soy sauce, honey, sesame oil, chili sauce or pepper flakes and pepper, to taste. Set aside.

2. To cook the quinoa, bring 2 cups of water (I used low-sodium chicken broth or bone broth) to boil in a pot. Add quinoa in a steady stream, stirring to prevent lumps from forming, and return to a boil. Reduce heat to low. Cover and simmer until tender, about 15 minutes. Look for a white line around the seeds -- it's the germ, and when it bursts, the grain is cooked. If water remains in the pot, remove lid and stir occasionally until all the liquid evaporates, being careful not to overcook. You want the quinoa to retain a bit of pleasant chewiness. Remove from heat and let stand, covered, for 5 minutes. Fluff with a fork and let cool.

3. In a serving bowl, combine quinoa, water chestnuts, red pepper, snow peas, and green onions. Add dressing and toss until combined. Chill for about an hour.
Nutrition Info: Per serving 124 calories, 4 protein, 24 g carbohydrate, 2 g fat, 4 g fiber, 96 mg sodium, 9g sugar.