Ready to Succeed?
Don't "diet", instead, Transform Your Life! We offer meal plans with recipes that taste GREAT! Enjoy your food, live your life, and reach your goals!

Learn More
Healthy, Clean Eating Recipes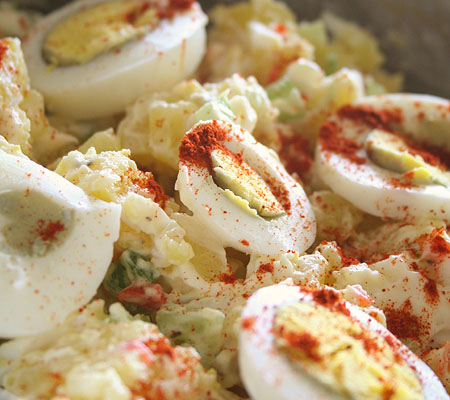 From my earliest memories, family gatherings included this amazing potato salad... This recipe is a family tradition and a mainstay of my childhood. With a minor tweak, the recipe is now clean. Potatoes have gotten a bad rap, but when enjoyed in moderation, they do have a place in the clean eater's life. They're full of B6, Vitamin C, Potassium, Manganese, Magnesium and more!


Potato Salad

Turner-Warren-Stafford Family Recipe

Ingredients:
5 pound bag of Russet Potatoes
1 red onion
12 eggs
4 Tbsp Mustard
1/4 cup Mayonnaise*
1-2 Tbsp Garlic powder** to taste
Sea Salt to taste
Paprika

Directions:
■ Boil potatoes. You can peel & quarter them before boiling, or just quarter them and peel off the skins after boiling. Drain and allow to cool.
■ Hard-boil eggs. Cool and peel. Set aside.
■ Chop/Dice potatoes into a large bowl (no skins).
■ Chop & dice onion, add to bowl.
■ Dice 6 eggs and add to bowl.
■ Add mayo* and mustard, mix well.
■ Sprinkle in Garlic powder, sea salt and a dash of paprika. Mix well.
■ Slice remaining 6 eggs in half and place on top of the salad. Sprinkle with paprika. Serve immediately, or chill first.

NOTE... this is a dry potato salad, not a creamy one. There's no need to increase the mayo. Once you mix it all together, the starch of the potatoes and the yolks of the eggs add a "creamy" feel to it.

*The original recipe calls for mayonnaise. Back in the day, Mayonnaise's ingredient label went something like this: eggs, oil, vinegar, sugar, salt. Today, that label is full of unpronounceable items. Not exactly clean eating. You can either make your own mayo with clean ingredients, or make a careful selection at the store being mindful of preservatives & additives.

**The original recipe calls for Garlic Salt. I've replaced this with garlic powder and sea salt. You can replace garlic powder with Mrs Dash Garlic & Herb, if you like. I use sea-salt because it's lower in sodium than table salt.
Nutrition Info: Based on a roughly 100g serving size (about half a cup), here is the nutritional information (not including the eggs halved on top of the salad): Per serving: 97 cal, 3 gram protein, 17 g carbs, 2 grams fat, 63 mg sodium, 2 g fiber