Ready to Succeed?
Don't "diet", instead, Transform Your Life! We offer meal plans with recipes that taste GREAT! Enjoy your food, live your life, and reach your goals!

Learn More
Healthy, Clean Eating Recipes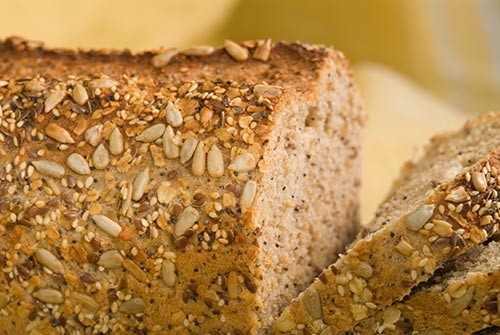 This 'from-scratch' recipe is absolutely incredible! While I have yet to locate 5x7 loaf pans, I used regular size ones, and though the bread was "short", it's amazing. The blog, Knead For Bread, though gone now, once had tons of great recipes. Trust me - this recipe is worth every second of preparation! Soooo Good!

Maple Seeded

Homemade Bread

makes 10-12 servings

Ingredients:

Day BEFORE:
1 cup whole wheat flour
1 cup (whole wheat) bread flour
1/4 tsp Active Dry Yeast
1 1/4 cup lukewarm water

● Combine the night before ingredients until smooth. Cover with cling wrap and leave on the counter over night.

DAY OF:
2/3 cup maple syrup
1/4 cup oatmeal
1/4 cup wheat germ
1/4 cup flax meal
1/4 cup semolina flour
2 tbsp poppy seeds
2 tbsp sesame seeds
2 tbsp flax seeds
2 tbsp sunflower seeds
1 tbsp sea salt
1 tbsp yeast
1 1/4 cups whole wheat flour
1 1/4 cups bread flour

Coating for the bread
2 tbsp flax seeds
3 tbsp oatmeal
3 tbsp sesame seeds
3 tbsp sunflower seeds
3 tbsp poppy seeds
1 egg white
3 tbsp water

Directions:
● On baking day, pour the mixture (from the night before) into a large bowl.
● Add in maple syrup, oat meal, wheat germ, flax meal, semolina flour, poppy seeds, sesame seeds and sunflower seeds.
● Using a wooden spoon mix till smooth.
● Add in instant yeast and whole wheat flour, mix till smooth.
● Add in salt and slowly add the bread flour. Add just enough till you are unable to mix with the spoon.
● Take some of the remaining bread flour and place it on a flat surface. Only add enough flour till the dough is just slightly tacky, but smooth and elastic. Knead for 8-10 minutes.
● Place the dough into a lightly oiled bowl. Cover with cling wrap and set a side till double in bulk.
● Just before the hour is up pour out the flax seeds, oatmeal, sesame seeds and poppy seeds onto a cookie sheet.
● In a small bowl combine the egg white and 3 tbsp. of water, set aside.
● Pour out the dough and lightly deflate. Cut dough in half and shape into loaves.
● Brush the tops of the dough with the egg wash.
● Place a loaf onto the seeds in the cookie sheet. Roll the dough through the seeds till all the dough is covered.
● Place into a greased loaf pan( 5x7 ). Cover the loaves with cling wrap and allow to double in size.
● Brush the tops of the bread with the remaining egg wash, this will help to glue the seeds to the dough.
● Slash the top of the breads.
● Bake in a 375 degree preheated oven for 35-40 min. or when the center of loaves are 180-185 degrees.
● Allow to cool on a wire rack.

Nutrition Info: based on 1 slice, 18 slices per loaf (recipe makes 2 loaves). This is a very rough estimate, as the slices are not all equal in size. 108 calories; 3 grams protein, 19 grams carbs, 2 grams fat, 2 grams fiber, 4 grams sugars. 17 grams net carbs.