Ready to Succeed?
Don't "diet", instead, Transform Your Life! We offer meal plans with recipes that taste GREAT! Enjoy your food, live your life, and reach your goals!

Learn More
Healthy, Clean Eating Recipes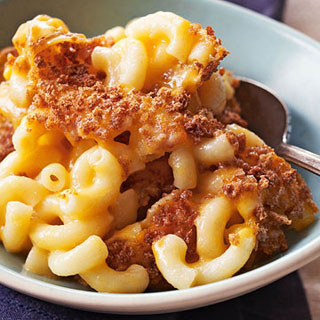 This recipe gem was featured in Fitness Magazine (Sept. 2010, pg 148) and was created by Rocco DiSpirito. 4 servings isn't enough for my family, so I doubled the recipe, though still used the 8x8 and it was absolutely incredible! Super Yummy! Full batch of thumbs-up from my house! :-) The original recipe (not doubled) is below.

*Note... make the onion-garlic puree first
Rocco's Light

Mac-n-Cheese

makes 4 servings

Ingredients:

Nonstick cooking spray (I used olive oil)
Salt (I used sea-salt)
4 ounces whole wheat macaroni (I used GF Quinoa pasta)
1/2 cup onion-garlic puree (see below)
1/2 tsp dry mustard
Pinch of cayenne pepper
1 cup shredded cheddar
1/3 cup greek yogurt
1/4 cup whole-wheat panko bread crumbs (use GF panko if you like)
1/4 cup grated fresh Parmesan

Directions:
1. Preheat oven to 425. Mist an 8x8 baking dish with oil. Set it aside.
2. Bring a large pot of salted water to boil. Add macaroni & cook per package directions. Drain.
3. Meanwhile, bring onion-garlic puree, mustard and cayenne to a simmer in a small saucepan over medium heat, stirring often. Whisk in cheddar until melted. Remove from heat and whisk in yogurt.
4. In a medium bowl, toss the macaroni with the cheese sauce. Season with salt to taste. Pour the mixture into the prepared baking dish and sprinkle panko over the top. Top with Parmesan.
5. Bake until Parmesan is melted and macaroni is hot throughout, about 10 minutes.

ONION-GARLIC PUREE
Combine 1 large Vidalia onion, 9 cloves garlic (roughly chopped) and half a cup of water in a microwave safe bowl. Season with salt (seasalt) and black pepper to taste. Cover the bowl tightly with plastic wrap and microwave on high 10 minutes.
Pour the mixture into a blender; blend until smooth.
Can be stored in the fridge (covered) for up to 72 hours.


Nutrition Info: Serving size about 2/3 cup. 237 calories, 17g protein, 31 g carbohydrate, 7 g fat (4 g saturated), 3 g fiber.