Ready to Succeed?
Don't "diet", instead, Transform Your Life! We offer meal plans with recipes that taste GREAT! Enjoy your food, live your life, and reach your goals!

Learn More
Healthy, Clean Eating Recipes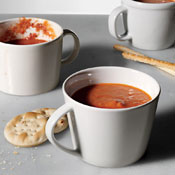 Craving a creamy, rich Tomato soup? Here it is! Women's Health Magazine offered this terrific recipe for homemade in a hurry tomato soup in the Jan/Feb 2010 issue. I played and tweaked with it and here's the result. It's super low in sodium, and the texture was wonderful, very creamy and smooth. I used a handheld mixer to puree it right in the pan. This recipe got a thumbs-up all around in my house.

Prep time: 5 minutes - Cook time: 25 minutes


Easy Tomato Soup
makes 4 servings

Ingredients:
1 tsp olive oil
1 small onion or shallot, diced
2 cloves garlic, chopped
2 Tbsp no-salt-added tomato paste
1 tsp sugar
2 Tbsp fresh basil, chopped
1 bay leaf
2 cans (14.5 oz each) Fire Roasted diced or crushed Tomatoes, including juice
1/4 c milk (I use whole)
2 Tbsp plain Greek-style yogurt


Directions:
1. Heat olive oil in medium saucepan. Cook onion and garlic until soft, about 5 minutes. Add tomato paste, sugar, thyme, bay leaf, tomatoes, and 2 cups water. Stir together and bring to a boil. Reduce heat and simmer about 20 minutes.

2. Remove bay leaf. Use a handheld blender to puree the soup in the saucepan, or transfer soup to a food processor or blender. Puree until smooth. (If you're using a standard blender, allow the mixture to cool first; hot liquid may cause the blender to squirt out contents. Depending on the size of your blender, you may have to do this in batches.)

3. Heat milk in microwave for 30 seconds to warm, and then stir it into the pureed soup along with yogurt. Mix well. Add salt and pepper to taste, and serve.

Nutrition Info: Makes 4 servings. Per serving: 76 cal, 1.5 g fat (0.2 g sat), 14 g carbs, 43 mg sodium, 3 g fiber, 3 g protein