Ready to Succeed?
Don't "diet", instead, Transform Your Life! We offer meal plans with recipes that taste GREAT! Enjoy your food, live your life, and reach your goals!

Learn More
Healthy, Clean Eating Recipes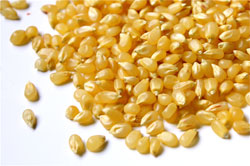 This recipe is fun! I love popcorn, but the butter dripping, salty movie theatre stuff doesn't cut it anymore. This, however, has replaced it! It's one of my favorite late night snacks! My favorite version is listed below in the Variations list... vanilla protein powder! So tasty!
Worried about the fat in the coconut oil? Don't! It's good for you! Seriously!

Clean Microwave Popcorn


Basic Recipe Ingredients:
1/3 cup popcorn kernels (double-check the label, the only ingredient should be corn)
2 Tbsp melted coconut oil
Sea Salt (I use Fleur de sel for this since it's got a really delicate flaky texture, very subtle)
Any other seasoning of choice (Mrs Dash, Pepper, or if you want to do kettle-corn, you can add some sucanat to the salt - see below)
Brown paper lunch bag

Directions:
Put the popcorn kernals in a brown paper lunch bag. Fold the top over once or twice. Place in the microwave and nuke just until you hear the popping slow (don't wait for it to stop, it'll scorch - yuck!).
Put the 2 Tbsp coconut oil in a big bowl and microwave for 15-20 seconds to liquefy the coconut oil. Now dump in the popcorn, sprinkle your sea salt & any other seasoning, and toss well. Uber yum!

VARIATIONS After adding the coconut (or olive oil, if you prefer... you can even use real butter*), add...
Vanilla protein powder - add a scoop to your hot popped kernels
Vanilla protein powder & Sea-Salt (this is my personal favorite!)
Vanilla protein powder & Cinnamon & Sea-Salt
Sucanat (Sugar Cane Natural) and Cinnamon
Sucanat (Sugar Cane Natural) and Sea-Salt
Mrs Dash - Any Flavor
Sea-Salt

*NOTE: Real butter?? Yep! Real butter is a great source of specific fatty acids that your body actually needs. If you're using margarine or other "fake" butters, dump them and use the real thing - in moderation.

Nutritional Info (for basic recipe): Per serving (makes 2) - 245 calories, 4 grams protein, 25 grams carbs, 15 grams fat, 4 grams fiber, 2 mg sodium.