Ready to Succeed?
Don't "diet", instead, Transform Your Life! We offer meal plans with recipes that taste GREAT! Enjoy your food, live your life, and reach your goals!

Learn More
Healthy, Clean Eating Recipes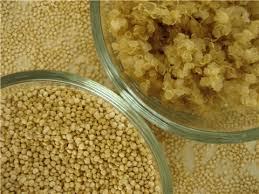 I get asked often about Quinoa - what is it, how do you pronounce it, and most of all... how do you cook it?? Quinoa is a fabulous, high protein "grain". It's actually a seed. And it's a complete protein, containing all the essential amino acids.
Always rinse your quinoa. Even if the box says pre-rinsed. There is a bitter coating on the seeds, and you don't want a taste of that, lol! Preparing quinoa is easy - no worries! And it's easy to tell when it's done - the germ pops out - in other words, it'll look like the grains sprouted little tails :-) You can change up the flavor & look easily... use different flavored broths instead of water, use seasonings (love me my Mrs Dash!), add a can of diced or crushed tomatoes, green chilies, black beans... whatever! There are multiple colored varieties, too... I love to mix 1/3 cup of white, 1/3 cup of red, 1/3 cup of black all together. It's pretty!

Basic Quinoa

makes 4 1/2-cup servings

Ingredients:
1 cup quinoa
2 cups liquid (I prefer low sodium broth to water)
*optional: seasonings like Mrs Dash or other no-salt blends
Pinch of sea-salt

Directions:
For every one cup of quinoa, bring two cups of water to a boil (just like rice). If you prefer a more al dente texture, then use just 1.5 cups of water.
Cover when boiling and reduce to a simmer. Cook for 12-15 minutes, or until the germ separates from the seed. The cooked germ looks like a tiny curl. See photograph below comparing cooked quinoa to uncooked quinoa.
Let stand for about 3 minutes to become fully fluffy.
Nutrition Info: Serving size 1/2 cup. 164 calories, 7 protein, 28 g carbohydrate, 3 g fat, 3 g fiber, 42 mg sodium, 0g sugar.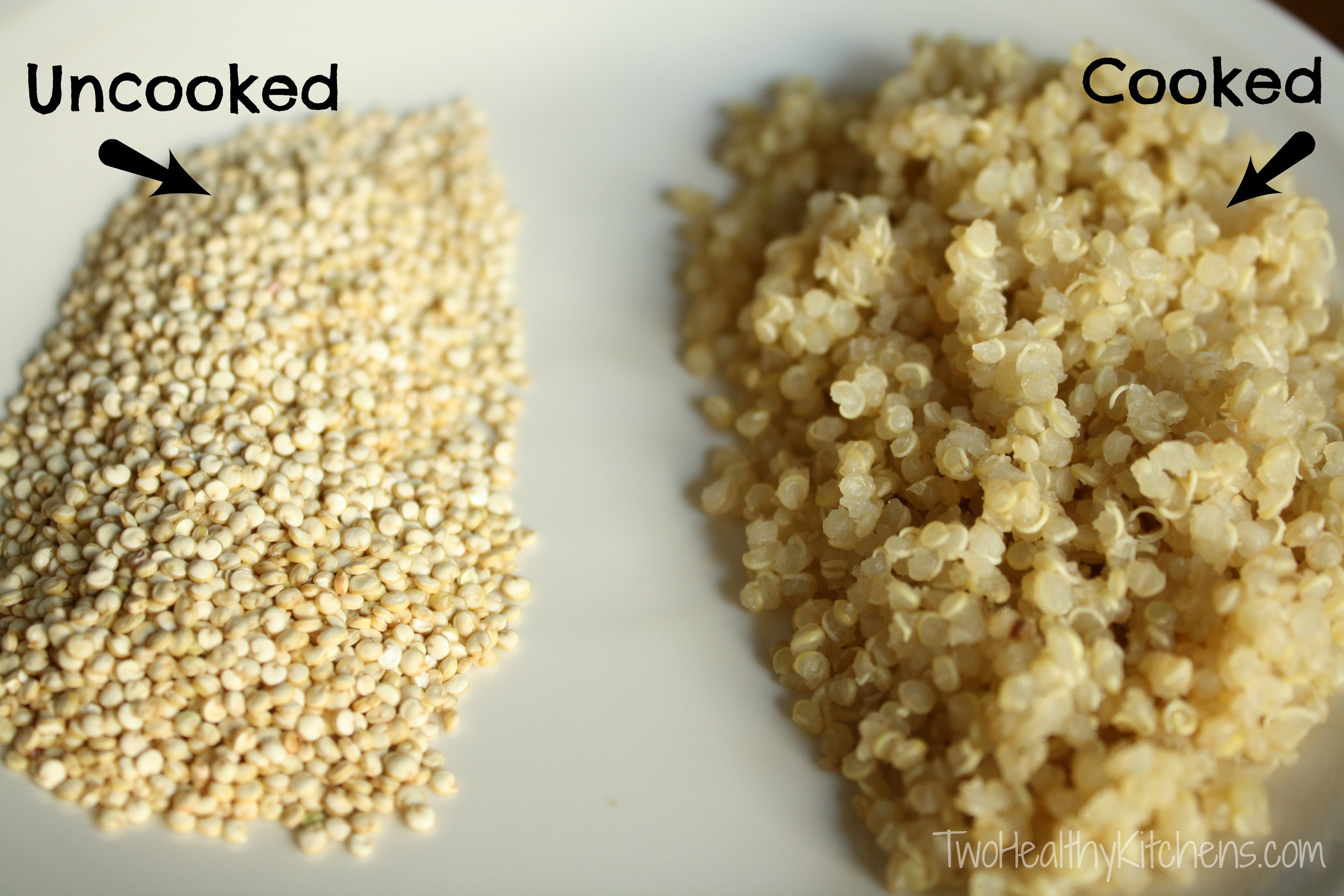 Photo credit TwoHealthyKitchens.com