Ready to Succeed?
Don't "diet", instead, Transform Your Life! We offer meal plans with recipes that taste GREAT! Enjoy your food, live your life, and reach your goals!

Learn More
Healthy Recipes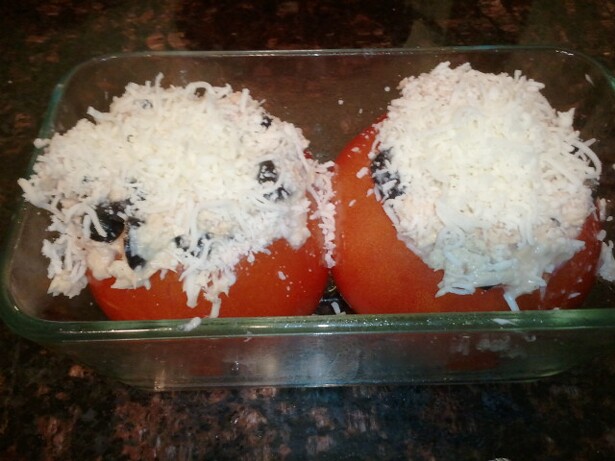 Looking for a fast but flavorful high-protein meal? A throwback to one of my childhood comfort foods, I tweaked Grandma's recipe and the result is a training-friendly, and tasty, quick meal.





Tuna Stuffed Tomatoes

by Chelle Stafford


Serves 2

Ingredients:

4 Whole tomatoes (not roma). Can sub 2 very large tomatoes.
1 15-oz can Tuna packed in water, no added salt
1 4-oz can sliced olives, drained and rinsed
2 oz plain greek yogurt
1/4 tsp black pepper (or white pepper)
4 Tbsp Mozzarella cheese

Directions:

Preheat oven to 450
Core 2 LARGE tomatoes (or 4 normal sized ones - not plum tomatoes), and spoon out insides leaving a shell.
Spray a small baking dish with olive oil.
Mix tuna with 4 Tbsp Plain Greek Yogurt
Mix in 4 oz can of sliced olives, drained and rinsed.
Divide mixture between the two tomatoes.
Top with 1 Tbsp Mozarella cheese each.
Bake for 10 minutes, check for doneness, bake additional 5 if needed.
Allow to cool slightly.
Serve

NUTRITION using two LARGE tomatoes (per serving):
420 calories, 63 g protein, 15 g carb, 14 g fat. 667 mg sodium. 4 g fiber.
If you make the recipe with 4 normal size tomatoes, per tomato:
220 calories, 31 g protein, 7 g carb, 7 g fat. 333 mg sodium, 2 fiber.
| | |
| --- | --- |
| | |